As the UK, and the rest of the world continues to unlock from the constraints of the pandemic companies are hyper focused on their futures. How are they going to attract and retain top talent during a global skills shortage? With the sharp rise in cyber-attacks, how do organisations, and governments keep data safe? What about digital transformation, are they making the right choices to optimise environments and enable business agility? Are they being sustainable during this period of technological revolution to offset climate change?  
Our clients shared their thoughts on these top trending topics last month - read their expert insights, and more, in July's Coverage Highlights: 
The Future Is Now: Neill Ricketts of Versarien On How Their Technological Innovation Will Shake Up The Tech Scene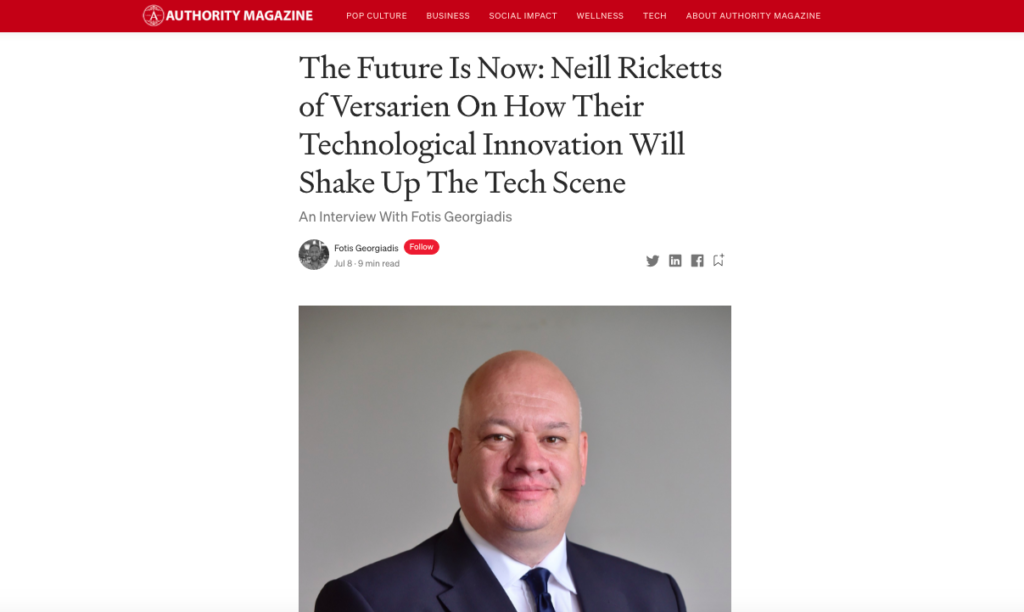 Sustainability is becoming the name of the game across all industries, including and especially healthcare. In an interview with Authority Magazine, Versarien CEO Neill Ricketts discussed the benefits that Versarien's innovative, and sustainable, graphene solution brings to the tech industry: "There is a fourth industrial revolution going on, driven by the Internet of Things and automatic machine-to-machine communication, and graphene has an especially vital role to play in this." 
ODA reaches milestone as TM Forum calls on telcos to grab cloud opportunity 
George Glass, TM Forum's CTO, spoke with Computer Weekly about the company's Open Digital Architecture initiative and why it's necessary for Communication Service Providers to replace legacy telecoms IT with industry-agreed cloud-native software. "If we move together as an industry, with a set of standards and processes that are universal, we will create the kind of business agility which unlocks new growth and increases value for the whole ecosystem."
SmartRecruiters Becomes the Latest HR Tech Unicorn
SmartRecruiters is the latest HR tech unicorn and is now worth $1.5 billion. This growth is indicative of the trajectory of HR recruitment tech and its importance in talent acquisition teams. Jerome Ternyck, SmartRecruiters CEO and founder, said to UNLEASH, "This [round], to me, is the realization of the vision we had when we first launched SmartRecruiters – to give every company the tools they need to attract and hire the highest quality candidates as efficiently and effectively as possible, and to give every candidate a job they love."
How banks can offset their carbon emissions amid the current climate crisis
Everyone is battling with the consequences of climate change, and environmental sustainability is no longer just a preference, it's a priority. HeleCloud CTO Walter Heck spoke with Fintech Global about how cloud solutions can facilitate the financial industry's migration to sustainability. "A sustainable 'Green Cloud' will best position firms to deliver on new commitments, such as carbon reduction and responsible innovation," commented Heck. 
Even highly skilled IT professionals fall prey to phishing attacks 
Remote working has made phishing attacks all too common. An Ivanti survey revealed that 74% of businesses have been victims of an attack in the last year. "Anyone, regardless of experience or cybersecurity savvy, is susceptible to a phishing attack," says Chris Goettl, Ivanti's senior director of product management. To avoid this, he recommends implementing a zero-trust security strategy and changing passwords regularly.
Ivanti Wavelink
IoT: The driving force for cold chain vaccine distribution 
For governments and healthcare institutions alike, the logistics to ensure the safe distribution of COVID-19 vaccines has been a priority. Marcus Jeffery, the UK&I regional manager of Ivanti Wavelink, spoke with Supply Chain Magazine about the role that IoT technology can play, particularly by monitoring and maintaining vaccine temperature. "Given the right deployment, IoT can deliver a secure a much-needed solution to a problem the world is currently facing and will continue well into the future until the pandemic is behind us."
The biggest data science trends in banking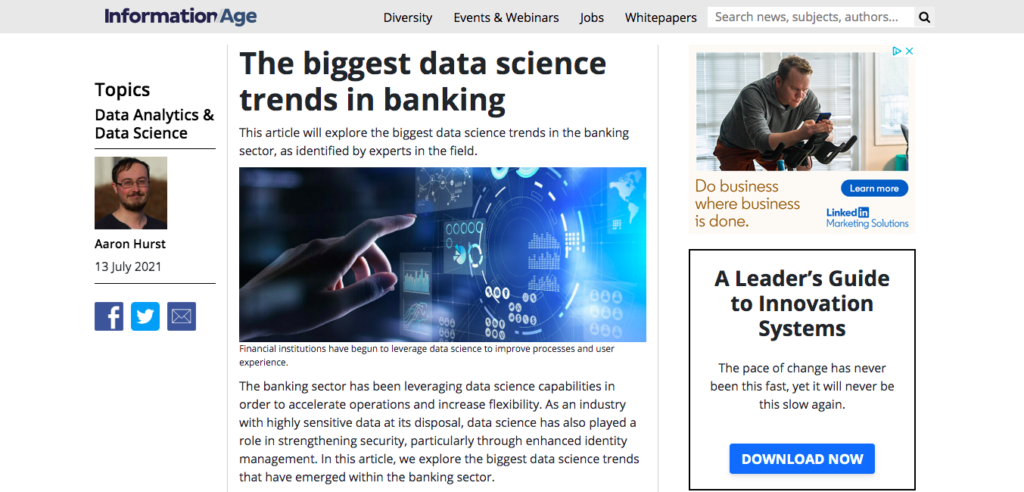 Leveraging data science is now the next area of growth for the banking industry. Speaking to Information Age, Richard Hoptroff, CTO and founder of Hoptroff, emphasizes the potential of traceable timing solutions to support banks' data infrastructure and the cost effectiveness of implementing time services for a business.
Make Banking Great Again: Biden's Executive Order's Knock-on Effect on Fintechs 
Dima Kats, CEO of Clear Junction, spoke with the Fintech Times about President Biden's new executive order, which aims to support the financial industry, encourage healthy competition, and bring about more job security. "By making the data modern open banking relies upon more accessible, Biden's Executive Order will help fintech organisations integrate seamlessly with banks and other financial organisations' platforms."
Logicalis restructures UK&I business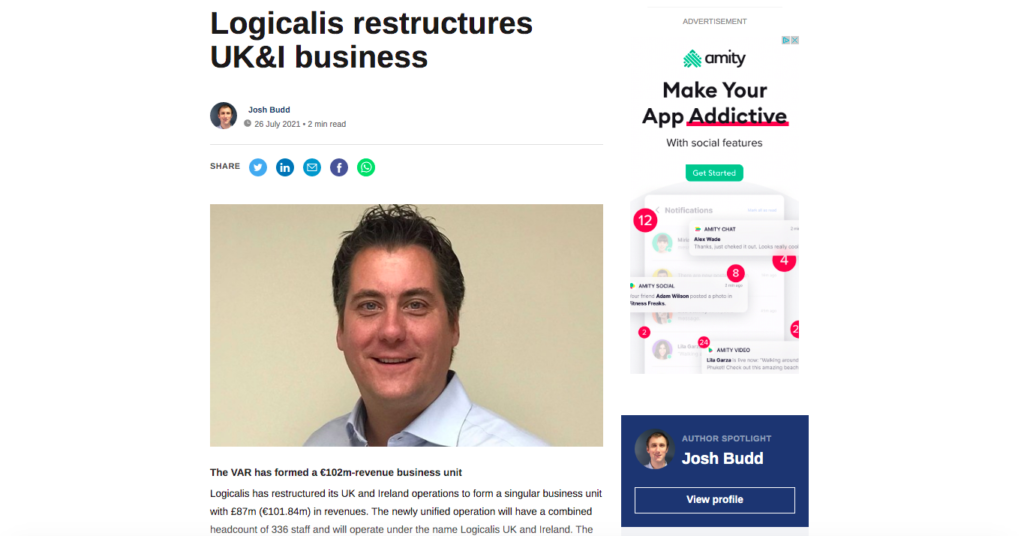 Logicalis has joined its UK and Ireland operations to form a singular business unit. Commenting on the joint business in CPI, Logicalis CEO, Bob Bailkoski comments, "Though collaboration, and shared best-practices across these territories, our customers in these regions will gain access to the greatest possible industry-leading services and solutions."
Aptum CEO on being 'fast tracked' to Azure Expert MSP status 
Aptum is shedding its telco business legacy in its recent recognition as Azure Expert MSP Partner, solidifying its transformation into a cloud and infrastructure-as-a-service provider. Aptum CEO, Susan Bowen, spoke with CRN UK about the future of this partnership and what it means for Aptum and the industry: "I think AWS and Azure are recognizing the importance of managed service providers to help them achieve their goals...As we go forward, the opportunity for those relationships to flourish is definitely there and I'm very much looking forward to that."
For more information on how we can assist you in securing earned media coverage or drive success and sales for your business, get in touch at:  letstalk@championcomms.com 
Our latest case study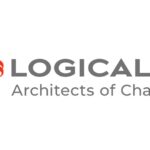 Logicalis
Logicalis had a trust problem. It was spending excessive amounts of time and money on lead and demand generation activity that was resonating with IT and Line of Business (LOB) decision-makers.
All case studies
An Award Winning B2B PR Consultancy
B2B Content Campaign of the Year – Champion Communications & MobileIron: Trouble at the Top
Best Use of Data in a Content Campaign – Champion Communications & MobileIron: Trouble at the Top
Shortlisted – B2B Campaign
of the Year (Aptum)
Best B2B Trade Campaign – Aptum
Best B2B Trade Campaign – Ivanti
Best Use of Data – Ivanti
Winner – Best Use of Data (Ivanti)
Winner – Best one-off Content Campaign (Ivanti)
Winner – Best Use of Data (Greenlight Commerce)
Winner – Best Content Campaign to Assist with Corporate Positioning (Greenlight Commerce)
Shortlisted – Best one-off Content Campaign (Aptum)
Champion Communications
is a member of the PRCA
Shortlisted – B2B Technology Campaign: It's not always sunny in the cloud – The Aptum Cloud Impact Study
Shortlisted – B2B Technology Campaign: The Public Sector Problem
Shortlisted – Best corporate decision-maker targeted campaign: Trouble at the Top, MobileIron
Winner: gold – best pr campaign, go instore
Winner: bronze – best corporate decision maker targeted campaign, Ivanti