Champion makes it easier for B2B companies to increase sales through PR by helping brands connect with prospects and maintain demand generation. To read more, download the e-book here:
Access now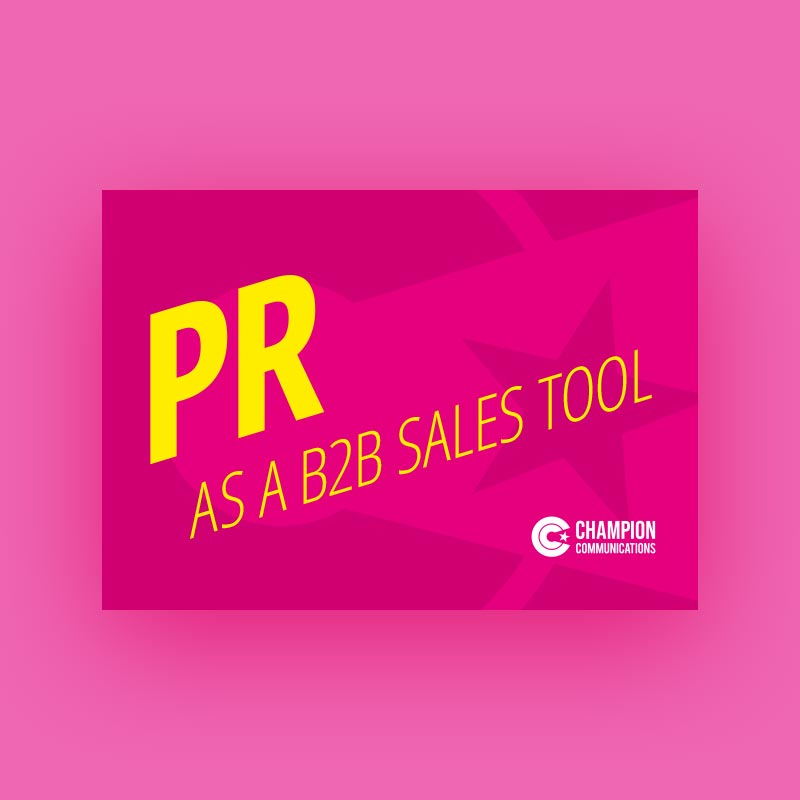 Champion has partnered with TechUK to conduct a study which asks Sales people and Business Development executives what would help them sell more. Download the report here:
Access now
For B2B tech brands, generating leads and making sales means getting to know IT decision-makers inside and out. Take a look at how earned media plays a crucial role in the process in the latest e-book 'Today's B2B Technology Buyer'.
Access now
An Award Winning B2B PR Consultancy
B2B Content Campaign of the Year – Champion Communications & MobileIron: Trouble at the Top
Best Use of Data in a Content Campaign – Champion Communications & MobileIron: Trouble at the Top
Shortlisted – B2B Campaign
of the Year (Aptum)
Best B2B Trade Campaign – Aptum
Best B2B Trade Campaign – Ivanti
Best Use of Data – Ivanti
Winner – Best Use of Data (Ivanti)
Winner – Best one-off Content Campaign (Ivanti)
Winner – Best Use of Data (Greenlight Commerce)
Winner – Best Content Campaign to Assist with Corporate Positioning (Greenlight Commerce)
Shortlisted - Best one-off Content Campaign (Aptum)
Champion Communications
is a member of the PRCA
Shortlisted – B2B Technology Campaign: It's not always sunny in the cloud – The Aptum Cloud Impact Study
Shortlisted – B2B Technology Campaign: The Public Sector Problem
Shortlisted – Best limited-budget campaign: Rescuing Retail, Go Instore
Shortlisted – Best use of public relations: Rescuing Retail, Go Instore
Shortlisted – Best corporate decision-maker targeted campaign: Trouble at the Top, MobileIron