September saw the news agenda move faster than we have seen in a while – in the current climate, that's really saying something. Amid Downing Street briefings, the UK high street continued to change, state-sponsored hackers took aim at the US election, and businesses looked to IT to prepare for next stage of the pandemic.  
These are just some of the points our clients offered their insights on. Continue reading for an overview of last month's highlights in media relations.  
Aptum  
Back to work? C-suite plans for a return to the office 
Essential services such as Aptum's data centres have been running in the background keeping businesses online throughout the pandemic. But when office staff started to gradually return to the workplace at the beginning of September, Aptum's, CEO, Susan Bowen, shared some preparations C-level executives in IT should consider to enable a safe return. 
MobileIron 
Preparing for the future of work 
Simon Biddiscombe, CEO of MobileIron, also offered IT decision makers advice on how approach the future of work – this time from a cybersecurity perspective. With the 'Everywhere Enterprise' model enabling flexibility with regards to remote work, Simon suggested what procedures and tools companies will need to effectively secure their employees devices.  
Joining the dots: phishing and ransomware.
In a technical analysis of these two types of malware, Brian Foster, SVP of Product Management at MobileIron, explored why they are often launched as part of a dual attack. In light of the increase in COVID-19 related attacks and largescale data breaches, Brian urges businesses to act now and protect their corporate data before it's too late. 
Russian interference in US elections ramps up on schedule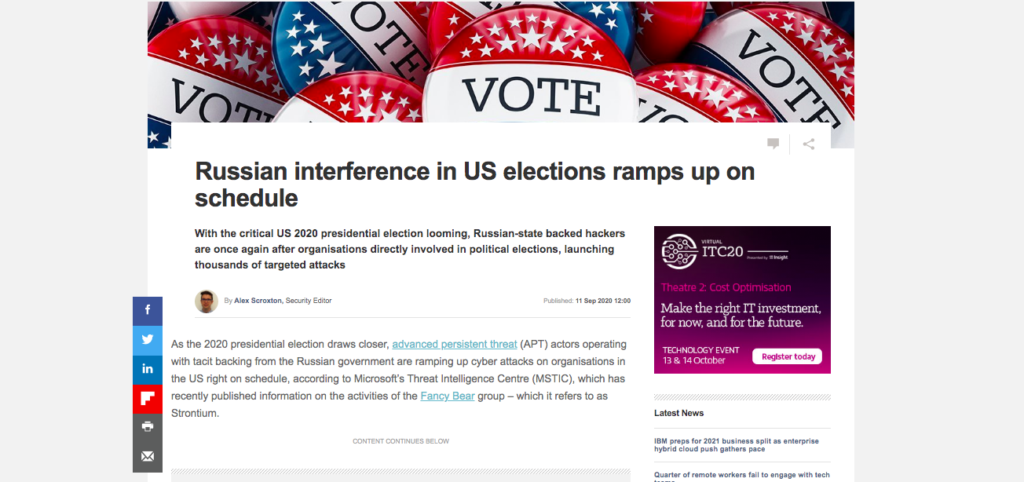 In what seemed like a repeat of 2016, state-sponsored cyberattacks targeting both sides of the US election entered the news once again this September. David Critchley, MobileIron's Director of UK & I, featured in Computer Weekly's coverage of the story, commenting on the need for individuals in the public guise to better defend against these types of attacks and the simple steps businesses can take to prevent them. 
Claremont 
Oracle E-Business support deadline sparks upgrades
Mark Vivian's, CEO of Claremont, latest interview took place with Search IT Channel where he broke the news of its latest contract win to provide Managed Services support for EBS for the City of Edinburgh Council. The interview took place alongside his US counterpart, John Schmottlach, SVP at Apps Associates, and the pair compared Oracle Managed Services and cloud adoption trends from across the pond. 
Go Instore 
Retail rundown with Aman Khurana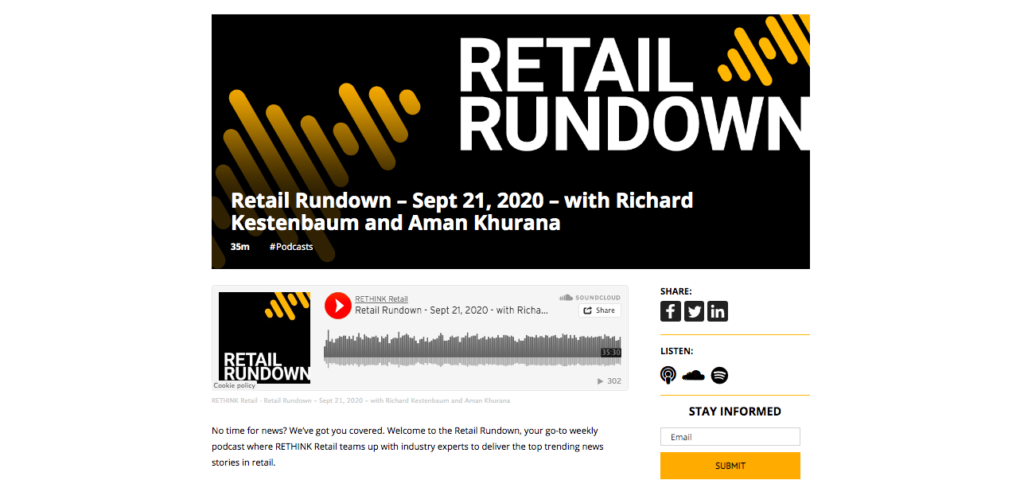 This month, Go Instore's Co-Founder, Aman Khurana, featured on Rethink Retail's podcast to discuss the week's trending topics in retail. Aman and host, Julia Raymond, discussed the opportune timing behind the launch of Amazon's luxury shopping offering, commerce through social media such as TikTok and much more.  
Store closures a sign of the retail evolution
Andre Hordagoda, CEO and Co-Founder wrote for 365Retail on the impact of store closures on the future of retail. Andre shares why it is vital for retailers to adapt their strategy to survive in the new retail landscape, and how technological innovations bolster commerce efforts. 
Logicalis 
How to achieve digital transformation success
In his first thought leadership article for Digital Bulletin, CEO, Robert Bailkoski, on how businesses can succeed with their digital transformation projects at a time where they are struggling to manage these. He argues that businesses need to take stock from how they adapted to the pandemic as they look to evolve just as effectively in the future. 
Hoptroff 
Right place, right time
Much of the world's critical infrastructure relies on GPS for its time feed. But did you know that GPS is increasingly vulnerable to spoofing attacks and outages? Richard Hoptroff, Founder and CTO of Hoptroff, explained why companies need to explore different sources of time to align with the UK government's Geospatial Strategy in his latest article for Data Centre Review.  
Everyone at Champion is now back working from the safety of our own homes for the time being. With several campaigns launching in October we are all looking forward to next month's coverage highlights.  
Our latest case study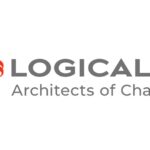 Logicalis
Logicalis had a trust problem. It was spending excessive amounts of time and money on lead and demand generation activity that was resonating with IT and Line of Business (LOB) decision-makers.
All case studies
An Award Winning B2B PR Consultancy
B2B Content Campaign of the Year – Champion Communications & MobileIron: Trouble at the Top
Best Use of Data in a Content Campaign – Champion Communications & MobileIron: Trouble at the Top
Shortlisted – B2B Campaign
of the Year (Aptum)
Best B2B Trade Campaign – Aptum
Best B2B Trade Campaign – Ivanti
Best Use of Data – Ivanti
Winner – Best Use of Data (Ivanti)
Winner – Best one-off Content Campaign (Ivanti)
Winner – Best Use of Data (Greenlight Commerce)
Winner – Best Content Campaign to Assist with Corporate Positioning (Greenlight Commerce)
Shortlisted – Best one-off Content Campaign (Aptum)
Champion Communications
is a member of the PRCA
Shortlisted – B2B Technology Campaign: It's not always sunny in the cloud – The Aptum Cloud Impact Study
Shortlisted – B2B Technology Campaign: The Public Sector Problem
Shortlisted – Best corporate decision-maker targeted campaign: Trouble at the Top, MobileIron
Winner: gold – best pr campaign, go instore
Winner: bronze – best corporate decision maker targeted campaign, Ivanti