What have you learned from this month's news agenda? We discovered that: 
Dark Stores

, retail stores that cater exclusively to online shopping, 

will become increasingly popular over the next 6-12 months

 

We are entering the age of the Everywhere Enterprise, in which

work takes place anywhere and data resides everywhere

Twitter 

is 

allow

ing

 all employees to work from home

 

forever if

 

i

t 

suits them

 
Only 10% of public bodies and local authorities are running on R12.2, Oracle's latest version of Enterprise Business 

Suite (EBS)

 
Read all about it in the coverage Champion has secured for its clients this month:  
MobileIron 
Building business resilience in the everywhere enterprise 
Do you think your organisation had the right technologies in place at the start of the pandemic to enable to you work productively? According to a recent MobileIron survey, two-thirds of employees do! And over 80% of employees want to continue working remotely, even after the pandemic. Alex Mosher, VP for Global Strategy at MobileIron, shares his thoughts on why building business resilience and ensuring business continuity starts with cybersecurity in ITProPortal.  
2021 predictions for the Everywhere Enterprise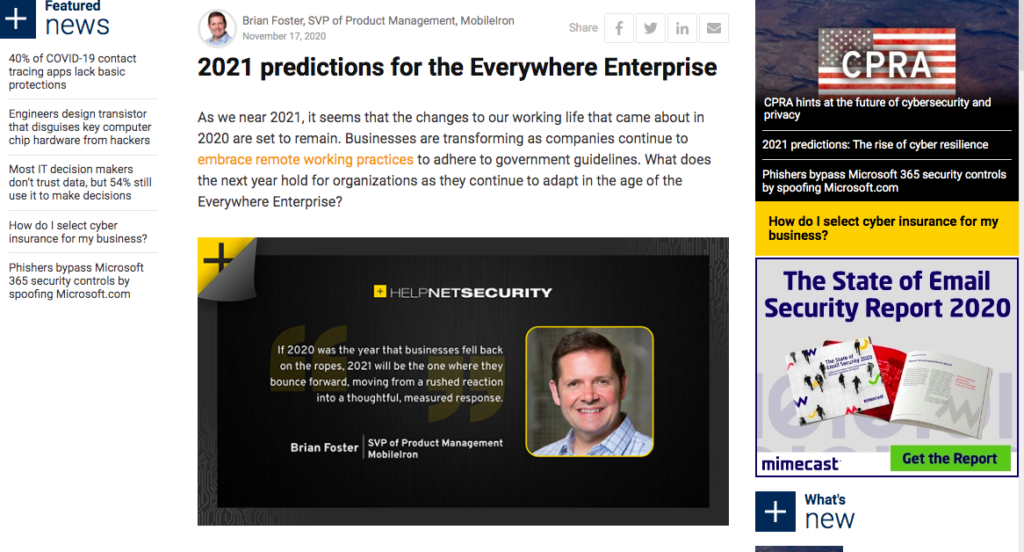 This month, Brian Foster, MobileIron's SVP of Product Management sets out his predictions for the year ahead in Help Net Security as we move into the year of the Everywhere Enterprise. He believes the rush to the cloud will continue, people will be the new perimeter, user experience will become increasingly more important and that we can expect to see an increase in QR code fraud problems. Would you agree?  
Claremont 
Three options for next year's IT strategy 
Mark Vivian, CEO at Claremont shares why public sector organisations have just one year to upgrade their Oracle Enterprise Business Suite in Computer Weekly. He advises local government authorities and public sector bodies on the urgency to upgrade now to avoid any compliance or security incidents in future.  
Logicalis 
Zoom In: Logicalis Group CEO on hunt for COO and pitfalls along the path from VAR to MSP 
In the latest instalment of Channel Partner Insight's 'Zoom In' series with Nima Green, Logicalis CEO Bob Bailkoski, introduces the company's new Group VP of Business Development, Mick McNeil. They discuss Logicalis' journey from VAR to MSP (Managed Service Provider) and the ever-growing strategic partnership with Microsoft and what it means for customers. Bob also touches upon lessons learned since he took the reins two weeks before the UK first went into lockdown, and why hiring a COO is key to growth of the managed services segment of the business.  
Go Instore 
Aman Khurana of 'Go Instore': The Future Of Retail In The Post Pandemic World 
What does the future hold for retail? Aman Khurana, Go Instore's Co-Founder and Co-CEO shares his thoughts with Medium's Authority Magazine on the rise of the Dark Store, continued online shopping habits and the so-called 'Retail Apocalypse.'  
CIO Spotlight: Antoine Boatwright, Go Instore 
In his first media interview, Antoine Boatwright, CIO of Go Instore, discusses his 30-year career in technology, his thoughts on the conventional CIO role and the best career advice he has ever received. Antoine also offers advice to aspiring IT leaders, and if there is anything he would do differently in his career. To which he states: "Not much. Failure is part of the learning process. So, if there was anything to do differently it would be to worry less and enjoy more. (Even during the hard times!)" 
To find out how Champion can assist you and your company in leveraging the news agenda for earned media coverage, get in touch at: letstalk@championcomms.com 
Our latest case study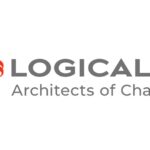 Logicalis
Logicalis had a trust problem. It was spending excessive amounts of time and money on lead and demand generation activity that was resonating with IT and Line of Business (LOB) decision-makers.
All case studies
An Award Winning B2B PR Consultancy
B2B Content Campaign of the Year – Champion Communications & MobileIron: Trouble at the Top
Best Use of Data in a Content Campaign – Champion Communications & MobileIron: Trouble at the Top
Shortlisted – B2B Campaign
of the Year (Aptum)
Best B2B Trade Campaign – Aptum
Best B2B Trade Campaign – Ivanti
Best Use of Data – Ivanti
Winner – Best Use of Data (Ivanti)
Winner – Best one-off Content Campaign (Ivanti)
Winner – Best Use of Data (Greenlight Commerce)
Winner – Best Content Campaign to Assist with Corporate Positioning (Greenlight Commerce)
Shortlisted – Best one-off Content Campaign (Aptum)
Champion Communications
is a member of the PRCA
Shortlisted – B2B Technology Campaign: It's not always sunny in the cloud – The Aptum Cloud Impact Study
Shortlisted – B2B Technology Campaign: The Public Sector Problem
Shortlisted – Best corporate decision-maker targeted campaign: Trouble at the Top, MobileIron
Winner: gold – best pr campaign, go instore
Winner: bronze – best corporate decision maker targeted campaign, Ivanti