The countdown is on; the end is in sight. The UK has finally announced its roadmap to exit lockdown. While the roadmap out of lockdown became the centre of attention for all Britons; February also saw High Street retail giants fall, the impact of remote working on cybersecurity capabilities and the continued debate around cloud vs. on-premise. Read all about it and more in February's Coverage Highlights: 
Go Instore  
As Topshop heads online for good, is this the death of the high street?  
We have witnessed household brands Debenhams and Topshop disappear from our high streets as customers instead turn online. So how can retailers adapt to the rise in digital shopping? Go Instore Co-Founder and Co-CEO Andre Hordagoda, featured in Metro discussing why brands should turn empty shop fronts into dark stores; hubs used to fulfil online orders – to meet current and future shopping habits.  
Information Age roundtable: how to successfully engage customers post-pandemic  
Half of shoppers won't return to their pre-Covid shopping habits once restrictions have lifted. This means that retailers must find new ways to engage with customers once shops re-open. Two of Go Instore's customers, Sofology and Ribble, sat down with Information Age to discuss how they adapted to the sudden digitalisation of retail and the business benefits of an omnichannel strategy.  
HeleCloud  
Why the cloud could be key to retail recovery  
 With the popularity of personalised experiences only increasing in the new digital age, HeleCloud Retail Account Manager, Felix Shalom, shared why retailers must invest in the cloud to survive the next stage of the retail revolution in IT Pro Portal. He said, "Migrating to the Cloud can provide an agile and flexible framework upon which they can innovate."  
Cloud storage reseller or consumer? Partners face market shift  
"Store it in the cloud and make full use of the storage tiers." HeleCloud CTO, Walter Heck, was featured in SearchITChannel this month, advising the best cloud migration approach. He also offered his opinion on the cloud vs. on-premises debate.  
Aptum  
Bigger Isn't Always Better: Downshifting To Mighty Midsized  
In an interview with Forbes, Aptum CEO Susan Bowen detailed the challenges Aptum faced after transitioning from part of a broader organisation into a separate company and adopting the best practices when structurally transforming. The interview also covered how Aptum found freedom in creating innovative solutions and finding success in new market opportunities.  
Introducing February's Cloud Security Champion  
26% of respondents to Aptum's latest Cloud Impact Study view lack of skills to be a barrier to cloud transformation. With these concerns in mind, Chief Privacy Officer at Aptum, Ross Woodham, addressed how to resolve them. He also explained how MSPs like Aptum could help businesses ensure security is built into their cloud strategy, as Tech UK's Cloud Security Champion for February.  
Ivanti  
Protecting productivity within the disappearing perimeter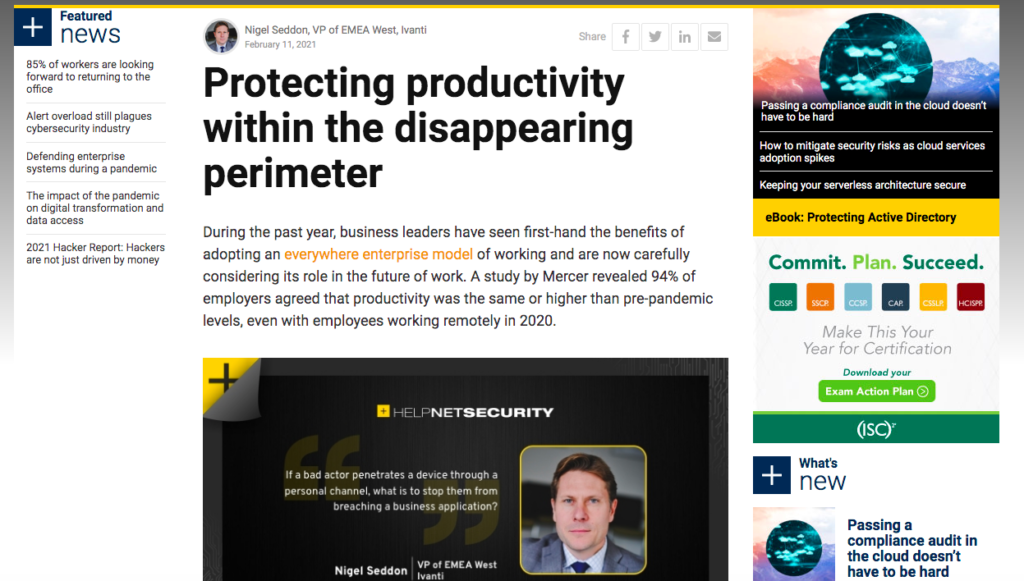 Ivanti's latest report has found that for 63% of those surveyed, IT workloads had increased 37% since remote working began. Nigel Seddon, VP of EMEA at Ivanti, featured in Help Net Security this month to talk about the impact that remote working has had on cybersecurity capabilities. Seddon suggests companies adopt a Zero Trust approach, based upon the assumption that anyone accessing the network is a threat and therefore needs authentication ahead of access.  
Why phishing and ransomware should be at the top of your c-suite's security concerns  
Over half of IT decision-makers believe that C-suite executives are the most likely targets for a malicious attack- so organisations must know how to protect them. Phil Richards, Chief Security Officer at Ivanti, shared his thoughts in IDG Connect on protecting these targets, the link between phishing and ransomware, and the trends he expects to continue into 2021.  
For more information on how we can assist you in securing earned media coverage or drive success and sales for your business get in touch at: letstalk@championcomms.com 
Our latest case study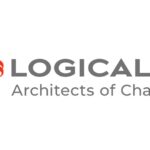 Logicalis
Logicalis had a trust problem. It was spending excessive amounts of time and money on lead and demand generation activity that was resonating with IT and Line of Business (LOB) decision-makers.
All case studies
An Award Winning B2B PR Consultancy
B2B Content Campaign of the Year – Champion Communications & MobileIron: Trouble at the Top
Best Use of Data in a Content Campaign – Champion Communications & MobileIron: Trouble at the Top
Shortlisted – B2B Campaign
of the Year (Aptum)
Best B2B Trade Campaign – Aptum
Best B2B Trade Campaign – Ivanti
Best Use of Data – Ivanti
Winner – Best Use of Data (Ivanti)
Winner – Best one-off Content Campaign (Ivanti)
Winner – Best Use of Data (Greenlight Commerce)
Winner – Best Content Campaign to Assist with Corporate Positioning (Greenlight Commerce)
Shortlisted – Best one-off Content Campaign (Aptum)
Champion Communications
is a member of the PRCA
Shortlisted – B2B Technology Campaign: It's not always sunny in the cloud – The Aptum Cloud Impact Study
Shortlisted – B2B Technology Campaign: The Public Sector Problem
Shortlisted – Best corporate decision-maker targeted campaign: Trouble at the Top, MobileIron
Winner: gold – best pr campaign, go instore
Winner: bronze – best corporate decision maker targeted campaign, Ivanti