Are robots taking human jobs? What does 2022 have in store for the fintech industry? Why are businesses struggling to unlock data? Last month saw these questions answered and more as our clients discussed key topics from 2021, and their hopes and predictions for the year ahead. Read all about it in December's Coverage Highlights.  
Are Robots Stealing Our Jobs or Creating Them? It's More Complicated Than That… 
Labour shortages and constant problems with supply chains across the globe have seen the interest in automated fulfilment solutions soar. GreyOrange's work with Active Ants, an eCommerce logistics company based in The Netherlands, featured in Warehouse Totaal, showing the GreyOrange's solutions in action.  
Driving digital transformation with collaboration 
Nik Willetts, TM Forum's CEO, featured in Mobile Magazine to assess the current situation surrounding digital transformation in telecoms. Nik explored the key themes that arose from the Forum's event, Digital Transformation World Series, including diversity and inclusion, and strengthening partnerships between telcos, suppliers, and systems integrators. 
Three quarters of CIOs struggle to unlock data insights within their organisation    
Logicalis' Global CIO Survey featured in Think Digital Partners in December. The survey found that 75% of CIOs struggle to unlock data insights within their organisation. The survey also concluded that although a vast majority of businesses are accelerating their digital transformation efforts, three-quarters of CIOs say that they struggle to understand the data they assemble. 
Ready for Oracle E-Business Release 12.2 by new year 2022?  
Claremont's Mark Vivan featured in Computer Weekly to talk about the termination of Oracle's premier support for Release 12.1 of Oracle E-Business Suite on December 31st.  Mark advised what businesses can do to get ready to adopt Release 12.2 which will be supported for at least the next decade through to the end of 2032.  
Logicalis shines light on importance of data to CIO plans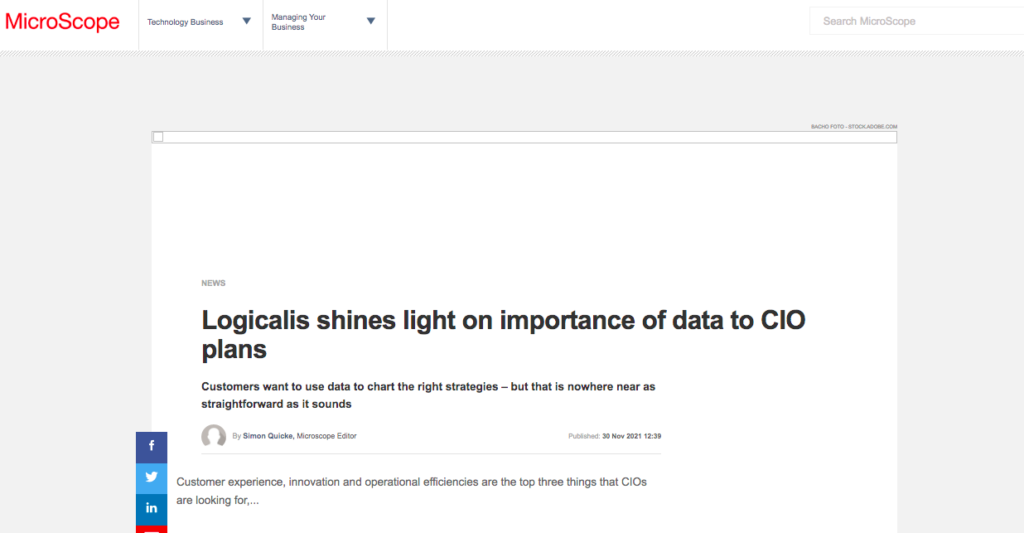 One of the main conclusions of Logicalis' 2021 Global CIO Survey is that data analytics is becoming a lot more important to CIOs overall strategies. Petabytes of data are being generated globally and a lot of it risks becoming 'dark data': data that is collated, processed, and stored never to be revisited. Mark Benson, CTO at Logicalis UK featured in Computer Weekly stating, "identifying and using the right data to carry out a successful digital transformation is crucial to business speed and agility."
The future of cybersecurity: Edge, Cloud or both? 
Walter Heck, CTO of HeleCloud, took to Digitalisation World to share his thoughts on what he believes the future of cybersecurity holds. He argued that although cloud technology has decreased the likelihood of cyber-breaches by over 60%, edge computing has immense potential to be more effective in fighting harmful cyber-activity. Therefore, some ask the question: will edge computing replace cloud technology?
After Log4j, December Patch Tuesday piles on the pressure 
Microsoft released their final Patch Tuesday update for 2021 under the long shadow cast by the ongoing fallout over the Log4j vulnerability. The December update included 67 unique common vulnerabilities and exposures with 7 being rated as critical and 6 being actively exploited. Ivanti's Chris Goettl weighed in on the update in Computer Weekly.
Nuzoo blog: IT struggling to show return on DX investments 
Despite the widespread belief that digital transformation was spurred on because of the pandemic, research from Dae.mn has shown that outside of the IT Department, few recognise the extent of change that has taken place. Featured in Nuzoo, Dae.mn's survey showed that of the 35% of people who said they had fully implemented their digital transformation strategy, only 20% were decision-makers outside the IT Department.
Biggest trends in the payments industry for 2022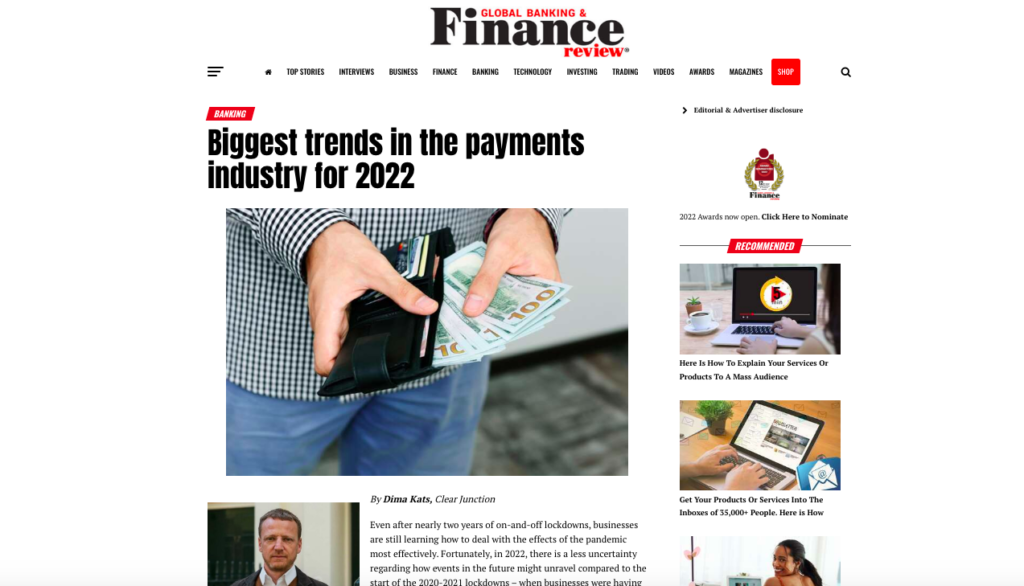 In an article for Global Banking and Finance Review, Clear Junction CEO Dima Kats delivered his prediction for the payments industry for 2022. He believes that businesses will experience less uncertainty as the pandemic enters its third year. Additionally, because of COVID-19, digital payments have become a cornerstone for the global economy and because of this, financial institutions will turn to fintech and other innovative technologies to stay relevant and focus on the best way to improve the customer experience.  
For more information detailing how Champion can assist you in securing earned media coverage, please email: letstalk@championcomms.com  
Our latest case study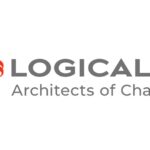 Logicalis
Logicalis had a trust problem. It was spending excessive amounts of time and money on lead and demand generation activity that was resonating with IT and Line of Business (LOB) decision-makers.
All case studies
An Award Winning B2B PR Consultancy
B2B Content Campaign of the Year – Champion Communications & MobileIron: Trouble at the Top
Best Use of Data in a Content Campaign – Champion Communications & MobileIron: Trouble at the Top
Shortlisted – B2B Campaign
of the Year (Aptum)
Best B2B Trade Campaign – Aptum
Best B2B Trade Campaign – Ivanti
Best Use of Data – Ivanti
Winner – Best Use of Data (Ivanti)
Winner – Best one-off Content Campaign (Ivanti)
Winner – Best Use of Data (Greenlight Commerce)
Winner – Best Content Campaign to Assist with Corporate Positioning (Greenlight Commerce)
Shortlisted – Best one-off Content Campaign (Aptum)
Champion Communications
is a member of the PRCA
Shortlisted – B2B Technology Campaign: It's not always sunny in the cloud – The Aptum Cloud Impact Study
Shortlisted – B2B Technology Campaign: The Public Sector Problem
Shortlisted – Best corporate decision-maker targeted campaign: Trouble at the Top, MobileIron
Winner: gold – best pr campaign, go instore
Winner: bronze – best corporate decision maker targeted campaign, Ivanti