Topping the news agenda this month were the long-term impacts of the pandemic on business innovation, and the lessons to be learnt and implemented in order to drive growth. These include transforming hiring practices to be more inclusive, integrating the online and offline spaces to provide a unique digital retail experience, and considering how tech can become more sustainable.  
Every sector from security to recruitment has been affected by these implications. Our clients shared their insights on how businesses can combat these and innovate in the 'new normal'. Read all about it and more in August's Coverage Highlights:  
A Seamless Online Shopping Experience 
The online shopping experience is a powerful tool in building customer loyalty – if done right. In A1 Retail, Andre Hordagoda, Go Instore's co-CEO and co-founder, joined other business leaders disrupting traditional retail with their innovative solutions to discuss how live video can humanise the digital experience and build trust between the business and its customers. "Livestream shopping offers an immersive experience that reaches the customers where they are, and kicks off their personalised customer journey," describes Hordagoda.  
A Chat with Francesca Gargaglia, CBO and COO at Social Experience Company: Amity 
The pandemic disrupted how businesses engage with their audiences, with many lacking the foundation to move their social experiences entirely online. Francesca Gargaglia, CBO and COO at Amity, spoke with TechRound UK about the importance for companies going forward to reconsider how they connect with their end-users, asserting, "The transformation accelerated by the pandemic has set the bar really high for the digital experiences customers are craving, and delivering a strong experience is going to make the difference between one business and the next." 
Automation in fulfilment – what's the fuss? 
Retail fulfilment networks weren't prepared for the surge of ecommerce activity prompted by the pandemic. That's why AI driven software, combined with robots, can provide speed and convenience in warehouse centres, to accommodate high customer expectations and cope with widespread labour shortages, argues John Seidl, Retail Consulting Partner at GreyOrange, in this month's issue of PCR Magazine. "From faster deliveries to better returns processing and increased productivity, the possibilities of automation in the warehouse are endless," explains Seidl. 
While finding and nurturing diverse talent has always been an issue for HR, the pandemic has pushed this challenge to the forefront. Justin Kearney, SVP of HR at Logicalis Group, joined other HR leaders in speaking to HRO Today about the importance of prioritising inclusion in hiring practices, and Logicalis' new "Global Inclusion Council" which aims to support the training and education of women and other minority individuals seeking to enter the technology industry.  
The hottest hyper-automation trends disrupting business today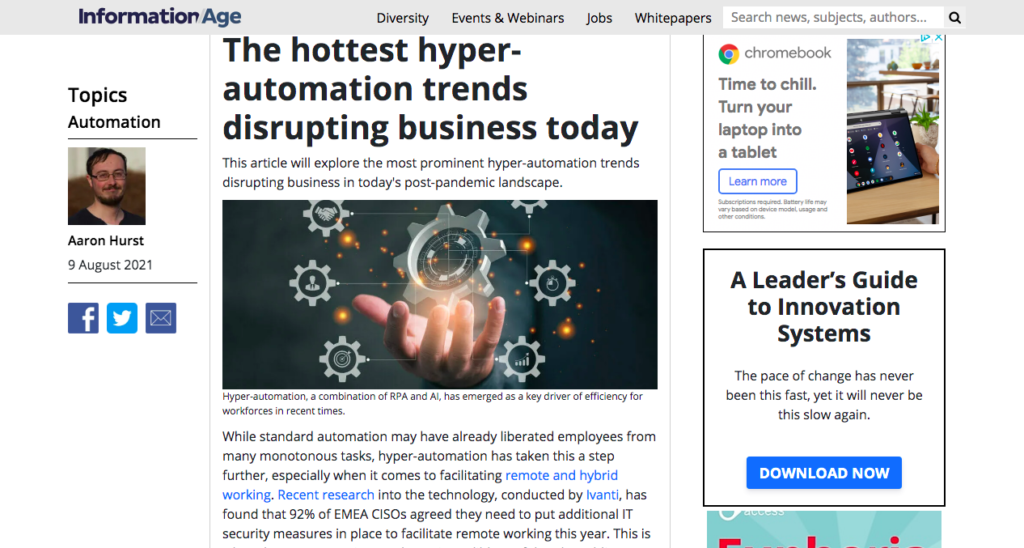 Hyper-automation has become the key driver of efficiency recently, improving security and IT performance and facilitating remote and hybrid working. Ivanti's SVP, Helen Masters, spoke with InformationAge about the biggest hyper-automation trends disrupting business, including combining machine learning, robotic process automation, the Internet of Things, and robotics. "These data science (DS)-based processes will have a tremendous impact on detecting process failures and other network issues by evaluating patterns in the data associated with them," she says. 
Diversity and Inclusion in Tech 
As many businesses struggle to locate the skilled staff they need, creating an inclusive and diverse workforce has become a necessity. Vicky Sleight, Director of Diversity and Inclusion at TM Forum, joined other diversity leaders in tech in Silicon UK to speak about the importance of diversity in a company's hiring practices, and TM Forum's Inclusion and Diversity benchmark, which aims to help companies improve Diversity and Inclusion efforts. 
Eco-FSI Sustainable Digitalisation is the Future of Financial Services 
As cloud migration numbers soar, many in the tech industry are questioning the environmental impact of their products. Walter Heck, CTO of HeleCloud, outlines in Business Express why sustainability can improve efficiency and profitability for fintech firms. "By reducing unnecessary dependencies that consume extra storage or computer resources, FSI business leaders can optimise automation and coding to cut process time and increase efficiency. This helps reduce costs, reduce energy usage and make CTOs' Iives easier so that they can focus on delivering value," he says. 
How employers can use HR tech to implement an internal mobility programme 
Companies typically invest in hiring externally when filling current job vacancies yet training and promoting existing staff members can prove more lucrative long-term. SmartRecruiters' research recently featured in UNLEASH, showing that hiring internally saves organisations $6,000 for every hire, which is why creating an effective internal mobility strategy, based around HR tech, is essential for retaining a strong workforce and cutting costs.  
Afternoon Show – Interview with Stephen Kitchen for Radio Gloucestershire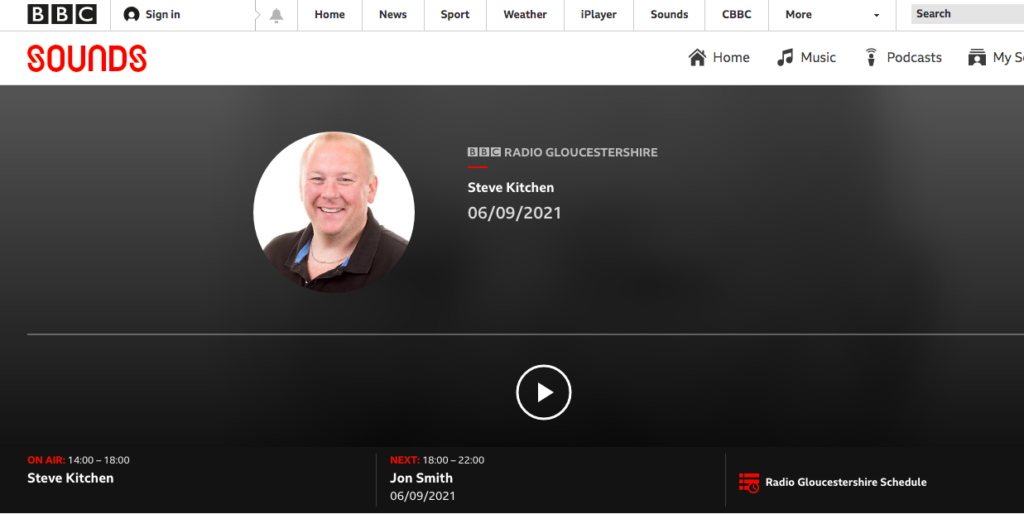 Graphene has emerged as the pioneer in innovating the textiles industry, both due to its unique thermal properties and its sustainability. Neill Ricketts, CEO of Versarien, spoke on Stephen Kitchen's Afternoon Show for Radio Gloucestershire about their journey to commercialise graphene, in their recent partnership with the University of Gloucestershire to carry out the first trial of graphene-enhanced sportswear. 
Data security and compliance: why prevention is better than cure 
As cyber-attacks increase, many business leaders are adopting cloud technologies to secure their data. Ross Woodham, Aptum's Chief Privacy Officer, reminds businesses that they must consider compliance while implementing their cybersecurity strategy, to fortify data protection and build trust in business processes. Speaking with Top Business Tech, he outlines the steps every company should take to prevent non-compliance, particularly the importance of partnering with a trusted MSP, which can elucidate the challenges they may face and the technologies to integrate. 
For more information on how we can assist you in securing earned media coverage or drive success and sales for your business, get in touch at:  letstalk@championcomms.com 
Our latest case study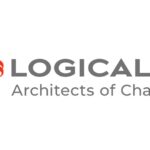 Logicalis
Logicalis had a trust problem. It was spending excessive amounts of time and money on lead and demand generation activity that was resonating with IT and Line of Business (LOB) decision-makers.
All case studies
An Award Winning B2B PR Consultancy
B2B Content Campaign of the Year – Champion Communications & MobileIron: Trouble at the Top
Best Use of Data in a Content Campaign – Champion Communications & MobileIron: Trouble at the Top
Shortlisted – B2B Campaign
of the Year (Aptum)
Best B2B Trade Campaign – Aptum
Best B2B Trade Campaign – Ivanti
Best Use of Data – Ivanti
Winner – Best Use of Data (Ivanti)
Winner – Best one-off Content Campaign (Ivanti)
Winner – Best Use of Data (Greenlight Commerce)
Winner – Best Content Campaign to Assist with Corporate Positioning (Greenlight Commerce)
Shortlisted – Best one-off Content Campaign (Aptum)
Champion Communications
is a member of the PRCA
Shortlisted – B2B Technology Campaign: It's not always sunny in the cloud – The Aptum Cloud Impact Study
Shortlisted – B2B Technology Campaign: The Public Sector Problem
Shortlisted – Best corporate decision-maker targeted campaign: Trouble at the Top, MobileIron
Winner: gold – best pr campaign, go instore
Winner: bronze – best corporate decision maker targeted campaign, Ivanti