How can AI and robotics technology solve the UK's supply chain crisis? How have the priorities of the CIO shifted during the pandemic? Where does accurate time fit in an increasingly digital world? These questions and many more were answered by our clients last month.
Read all about it in November's Coverage Highlights: 
CRN A-Listers on what lockdown habits they will keep going post-Covid  
Aptum's CEO Susan Bowen was featured in CRN's 2022 A-List, which highlights senior figures within the UK channel space. Susan was asked 'what lockdown habits will you keep going post-COVID?' To which she said that piano playing, a skill which she learned during her teens but abandoned in her 20s, is something she would love continue.   
Paynet taps Clear Junction for cross-border payments  
Clear Junction announced a new partnership with Paynet, Moldova's first electronic wallet platform. By partnering with Clear Junction, Paynet will enable those in Moldova to receive funds from their friends and family members based in Europe. The partnership marks part of Clear Junction's strategy to become the leading payments solutions provider for regional financial institutions. 
Dae.mn's founder Calum Fitzgerald featured in ITProPortal discussing how DevOps can be used in the retail sector and combat the challenges associated with accelerated levels of digital transformation. With customer experience fast becoming the top concern of consumers today, understanding customer needs and providing them with a smooth, personalised experience has never been so important. 
How AI and robotics can help solve the UK's supply chain crisis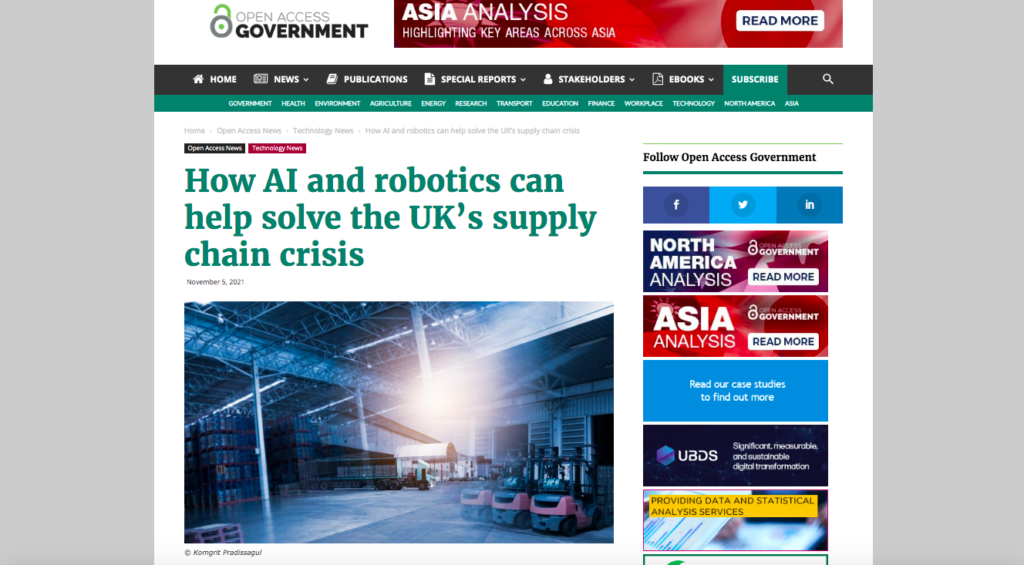 With Christmas fast approaching, retailers are warning customers that gifts and festive essentials may not be available due to supply chain issues. One-way retailers can solve part of this challenge is by integrating AI and robotics into fulfillment centers. GreyOrange's CTO, Akash Gupta, explored how AI could help alleviate the pressures that the supply chain has been under in OpenAccessGovernment.  
The cloud continues to dominate  
As businesses look to solve the challenges brought on by the pandemic and the cloud continues to dominate, HeleCloud's CEO Dob Todorov sat down with Digitalisation World to discuss HeleCloud's acquisition by technology behemoth SoftwareONE. He spoke about the optimistic outlook that HeleCloud and SoftwareONE share for both businesses and the benefits that customers will receive because of the acquisition.   
Hoptroff: Where Does Timing Fit In an Increasingly Digital World and the Future of Fintech?  
With an increasing portion of financial service providers embracing digital technology, Richard Hoptroff took to The Fintech Times to ask the question: 'Where does timing fit in an increasingly digital world?' Considering the rapidity at which the finance industry has adopted cloud technology and digital wallets, Richard believes that now is the time where the importance of accurate timekeeping is at an all-time high.   
CIOs prioritise innovation to improve digital customer connections (Page 25)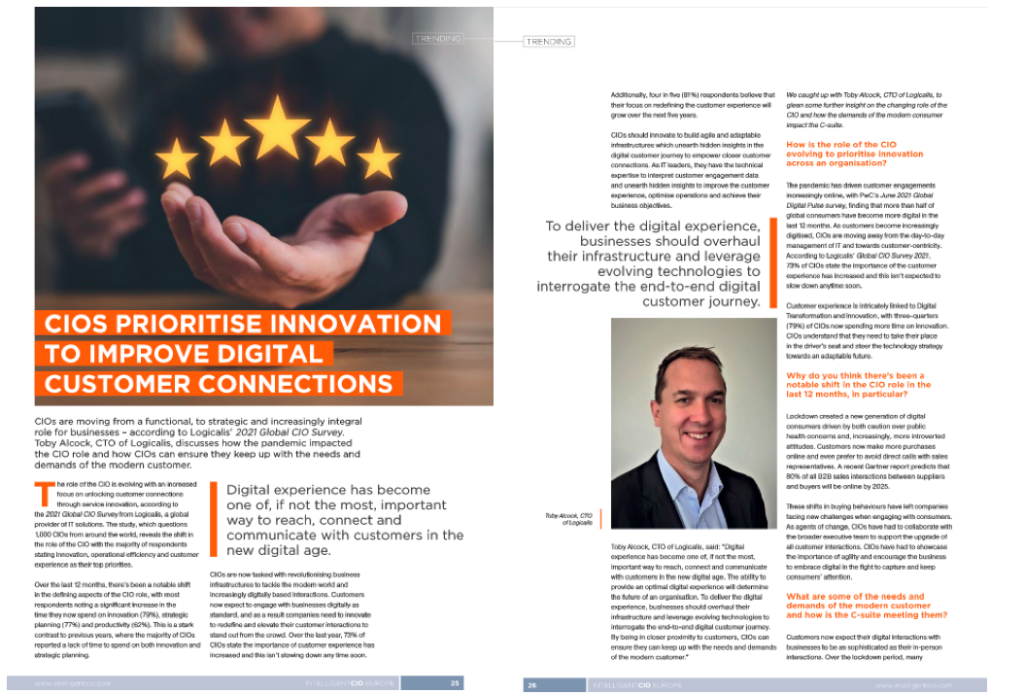 The results yielded from Logicalis' 2021 Global CIO Survey were published in this month's edition of 'Intelligent CIO'. Toby Alcock, CTO at Logicalis, discussed the effect that the pandemic had on the role of the CIO and how CIOs can ensure they keep up with consumer demand. Alcock puts the change in the CIOs priorities down to the pandemic moving a lot of business activity online, and therefore the digital experience has become the most important interaction that businesses have with their customers.   
Logicalis shines light on importance of data to CIO plans 
The results of Logicalis' 2021 Global CIO Survey showed that data analytics is becoming more important to CIOs. Mark Benson, CTO at Logicalis UK&I said that "the pandemic has brought on an incredible amount of uncertainty." He added that "identifying and using the right data to carry out a successful digital transformation is crucial to business speed and gaining a competitive advantage." 
Vulnerabilities associated with ransomware increased 4.5% in Q3 2021  
Ivanti's Ransomware Index Update Q3 2021 report found that vulnerabilities exploited by cyberattack groups grew by 4.5%. Furthermore, it also showed ransomware groups continue to grow in sophistication, boldness, and volume, with numbers up across the board in comparison to the last quarter. This data, published in Help Net Security, comes as cyberattacks become more dangerous and more frequent.  
IIoT technology: The holiday miracle for the supply chain crisis   
With the Confederation of British Industry (CBI) predicting that the supply chain will have issues until 2023, Marcus Jeffery, Ivanti Wavelink's Territory Manager UK & Ireland, says that enacting Industrial IoT (IIoT) technologies can serve as the antidote businesses need. This is primarily because an IIoT platform allows businesses to improve accuracy, productivity, safety, and make decisions with data accuracy.  
TMF's Willetts: maintaining vendor status quo "dangerous"   
TM Forum's CEO Nik Willetts shared his thoughts on the state of digital transformation in the telecommunications sector with TelcoTitans. After TM Forum's Digital Transformation World Series, Nik believes that the industry is displaying a 'renewed sense of purpose'. One lesson from DTWS was that operators should be listening to vendors more which are beginning to take place with Vodaphone and BT amongst others rethinking their strategies to involve vendors more in the procurement process.     
Graphene: The Powerhouse Behind The Fourth Industrial Revolution   
Versarien's CEO, Neill Ricketts, featured in Finance Monthly discussing the reasons why the UK government is showing interest in graphene as an investment opportunity. The Innovation Strategy announced last year aims to entice innovation back to the UK with billions of pounds in R&D investment. Neill explains that this is welcome news as graphene promises to become more powerful with more investment.  
For more information on how we can assist you by securing earned media coverage or drive and success for your business, get in touch at: letstalk@championcomms.com 
Our latest case study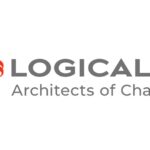 Logicalis
Logicalis had a trust problem. It was spending excessive amounts of time and money on lead and demand generation activity that was resonating with IT and Line of Business (LOB) decision-makers.
All case studies
An Award Winning B2B PR Consultancy
B2B Content Campaign of the Year – Champion Communications & MobileIron: Trouble at the Top
Best Use of Data in a Content Campaign – Champion Communications & MobileIron: Trouble at the Top
Shortlisted – B2B Campaign
of the Year (Aptum)
Best B2B Trade Campaign – Aptum
Best B2B Trade Campaign – Ivanti
Best Use of Data – Ivanti
Winner – Best Use of Data (Ivanti)
Winner – Best one-off Content Campaign (Ivanti)
Winner – Best Use of Data (Greenlight Commerce)
Winner – Best Content Campaign to Assist with Corporate Positioning (Greenlight Commerce)
Shortlisted – Best one-off Content Campaign (Aptum)
Champion Communications
is a member of the PRCA
Shortlisted – B2B Technology Campaign: It's not always sunny in the cloud – The Aptum Cloud Impact Study
Shortlisted – B2B Technology Campaign: The Public Sector Problem
Shortlisted – Best corporate decision-maker targeted campaign: Trouble at the Top, MobileIron
Winner: gold – best pr campaign, go instore
Winner: bronze – best corporate decision maker targeted campaign, Ivanti