September saw the UK grapple with the long-lasting implications of petrol and labour shortages with Christmas at stake. While this was happening, businesses looked for ways to improve their digital presence in recruitment, considered how to boost the online customer experience in retail, manage cybersecurity threats to protect their data, and ensure their service quality wasn't affected by the increased demand.
Throughout last month our clients shared their insights on these topics and more. Read what they had to say in September's coverage highlights:
Age discrimination: An overlooked diversity issue in tech
Age discrimination has been a hidden issue in the technology industry. Vicky Sleight, Director of Diversity and Inclusion at TM Forum, featured in ComputerWeekly explaining that businesses are at risk of losing out on additional revenue streams by discriminating based on age. She makes the point that technology is normally designed for younger people, so by not considering the older generation, companies are missing sales opportunities.
Could Christmas really be cancelled this year? 
The UK supply chain has fallen into disarray following mass labour shortages. Nigel Lahiri, General Manager EMEA at GreyOrange, spoke to Retail Gazette about the cause of these issues, stating that both Brexit and the pandemic had a part to play, but that the government should've acted sooner to prevent such nationwide problems. "One thing the Government could have done is supply brands and retailers with grants and loans to help them drive digital transformation initiatives." 
Premier League viewers use live chat once every 1.4 seconds as consumers embrace digital social experiences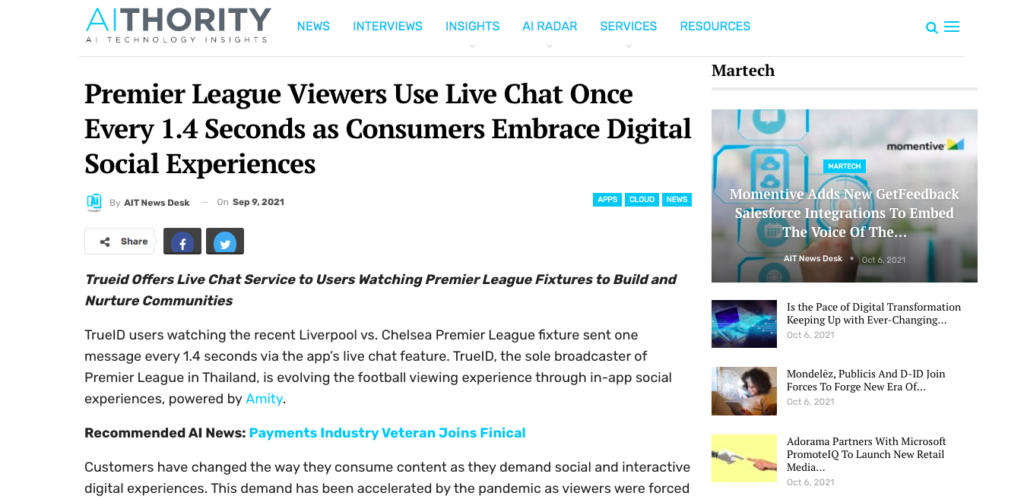 To enhance the digital experience for Premier League viewers, TrueID, Thailand's sole broadcaster of Premier League football matches implemented Amity's live chat services so that users could connect with each other. At its peak, the TrueID app had 92,000 live viewers connected to the messaging feature, a 160% increase when compared to previous weeks.  
The key to hiring success post-pandemic  
Hiring processes are increasingly being pushed exclusively online following the pandemic, but the rapidity at which recruitment tech has been adopted has meant many companies are yet to fully perfect the process. Jerome Ternynck, the CEO of SmartRecruiters, featured in TheHRDirector to provide guidance to businesses on what successful digital recruitment should look like in the post-pandemic world.  
Aptum unveils three enhanced tiers for its Managed Azure Cloud services  
Aptum is continuing to enhance its cloud services by launching new tiers for its Managed Azure Cloud which will allow customers to select an Azure service relative to their cloud needs. The announcement contained the 3 tiers designed to be tailored to business objectives. Marvin Sharp, Vice President, Product and Strategy at Aptum said, "Aptum Managed Azure Cloud is designed to be a flexible partnership and our enhanced tiers reflect that." 
HeleCloud's Ivaylo Vrabchev says businesses should be driving edge computing-based strategies  
HeleCloud's Head of Professional Services, Ivaylo Vrabchev, spoke with Digital Bulletin about how businesses should make more use of edge computer-based strategies. He argued that executives want their channel partners to capitalise on new edge opportunities by migrating their organisation away from mature technology requirements and instead, providing future support for emerging technologies and service requirements such as loT, security, cloud and analytics. 
Emplifi acquires livestream video platform Go Instore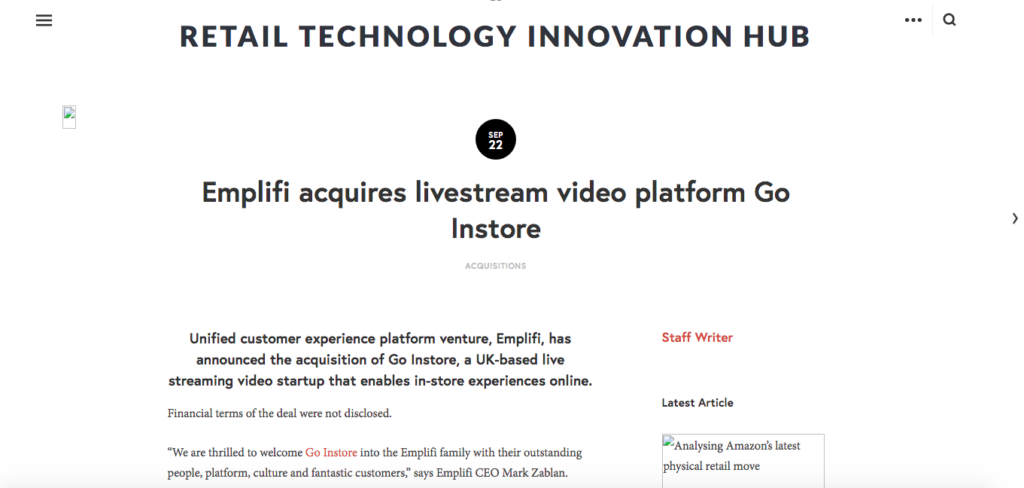 In an effort to enhance the customer experience for the omnichannel age, and on a journey towards being the CX platform of choice for brands, Emplifi has announced the acquisition of Go Instore. The acquisition will help to strengthen Emplifi's Social Commerce Cloud offering. On the announcement, Aman Khurana, Go Instore Co-CEO and Co-Founder said, "Emplifi's vision, innovation, and speed-to-market align perfectly with Go Instore. Together we will accelerate retail transformation with social commerce."  
Data driven HR is coming – is your team ready?  
With the transition to remote working and home offices, HR organisations have access to massive amounts of data – but many don't know how to use it. Justin Kearney, Logicalis's Senior VP of HR, featured in The Times' Raconteur magazine to discuss the need for data-driven HR. He states that by measuring employee engagement and targeting different geographies where skills are readily available, technology can ultimately serve as a real "game-changer" for recruitment and HR.  
Ivanti offers white glove service to encourage cross-selling  
As the security market grows, cybersecurity tools and technologies have equally proliferated – revealing the need for a personalised management approach. In Microscope Ivanti unveiled plans to release a "white glove" service to support partners that want to sell more of its security portfolio. Alan Finden, Ivanti's EMEA channels director said, "Ultimately, the acquisitions have been about putting together a platform for customers to discover what's on the network, to manage what is in their environment, [and] to secure what's in their environment." 
For more information on how we can assist you in securing earned media coverage or drive success and sales for your business, get in touch at: letstalk@championcomms.com 
Our latest case study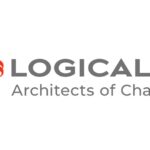 Logicalis
Logicalis had a trust problem. It was spending excessive amounts of time and money on lead and demand generation activity that was resonating with IT and Line of Business (LOB) decision-makers.
All case studies
An Award Winning B2B PR Consultancy
B2B Content Campaign of the Year – Champion Communications & MobileIron: Trouble at the Top
Best Use of Data in a Content Campaign – Champion Communications & MobileIron: Trouble at the Top
Shortlisted – B2B Campaign
of the Year (Aptum)
Best B2B Trade Campaign – Aptum
Best B2B Trade Campaign – Ivanti
Best Use of Data – Ivanti
Winner – Best Use of Data (Ivanti)
Winner – Best one-off Content Campaign (Ivanti)
Winner – Best Use of Data (Greenlight Commerce)
Winner – Best Content Campaign to Assist with Corporate Positioning (Greenlight Commerce)
Shortlisted – Best one-off Content Campaign (Aptum)
Champion Communications
is a member of the PRCA
Shortlisted – B2B Technology Campaign: It's not always sunny in the cloud – The Aptum Cloud Impact Study
Shortlisted – B2B Technology Campaign: The Public Sector Problem
Shortlisted – Best corporate decision-maker targeted campaign: Trouble at the Top, MobileIron
Winner: gold – best pr campaign, go instore
Winner: bronze – best corporate decision maker targeted campaign, Ivanti