How can ransomware threats be combatted in the hybrid era? Are HR teams employees' friends or foes? And what are the biggest tips and tricks from experience in the C-Suite?
With the summer drawing to a close, we are reflecting upon our clients' discussions this summer. From the purpose of HR and its benefit to employees to the importance of data call insight, August saw a diverse range of topics covered. Take a look at the highlights from this month:
SmartRecruiters
Are HR teams employees' friends?
Lisa Sterling, Chief People Officer at SmartRecruiters spoke with UNLEASH about the balance HR teams face between being friends with employees and thinking of the overall business. Having a too people-centric view as a member of HR can mean that difficult decisions can lead to employees feeling let down and demoralised.
Logicalis
Turn boardroom conversations on sustainability into action
There has been a significant shift in the past few years about how businesses should address the challenges and changes required to achieve sustainability goals. Leaders are increasingly working to make ESG a strategic business focus with sustainability becoming one of the main priorities of stakeholders, customers, employees, and investors. Charissa Jaganath, Head of Responsible Business at Logicalis speaks with Sustainability Magazine about this turn in boardroom conversations.
Corel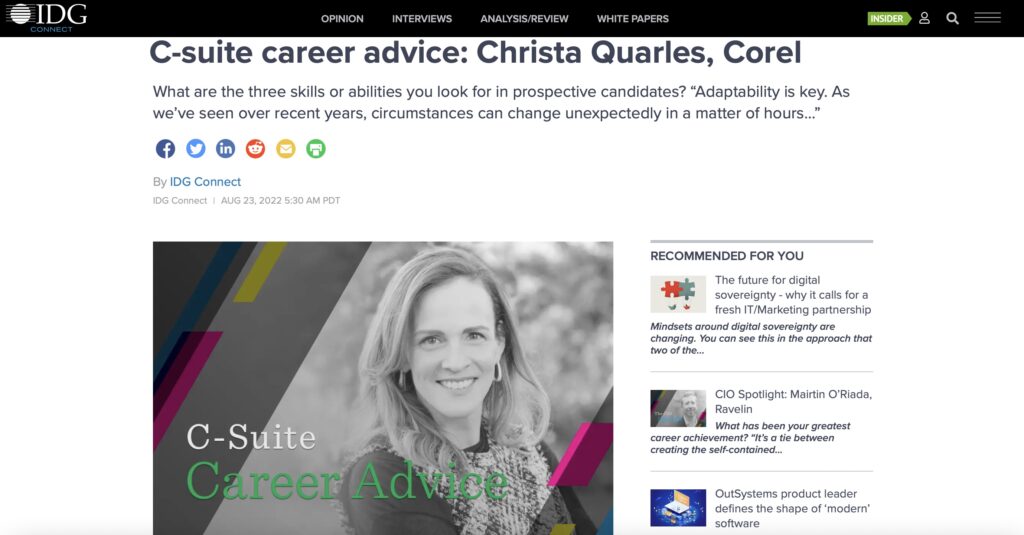 C-Suite career advice: Christa Quarles, Corel
Having joined Corel in 2020, CEO Christa Quarles has a wealth of leadership experience. Christa gave an insight into her career, from her first job to all the lessons she has learnt in the last two years. Giving advice to those at the start of their career or making a job switch, Christa reveals her knowledge of the C-Suite with IDG Connect.
Ivanti Wavelink
Navigating macro supply chain issues with technology
The global supply chain has been disrupted in the last few years due to various regional and global factors. With warehouse managers constantly looking for ways to improve their bottom line to help them navigate these issues, innovative technology can be introduced to provide micro solutions to some macro supply chain issues. Marcus Jefferey, UK & Ireland Territory Manager for Ivanti Wavelink speaks about navigating these macro supply chain issues with the use of technology.
Logicalis UK&I
'We've been preparing for this for the last 18 months' – Logicalis UK&I boss on Q Associates acquisition
MD Alex Louth spoke with CRN about how merging Logicalis's UK and Ireland branches into a single business unit will speed up its ability to make acquisitions. This has made it easier for them to recently acquire top NetApp, Cisco and Lenovo partner Q Associates – its first acquisition in more than six years.
Infinity
The growing importance of call insight data in the financial services industry
With the pandemic's strain on financial service institutions (FSIs), call analytics and data played and continue to play a vital role in customers searching for new financial products or services. Warren Newbert, CEO at Infinity, speaks on the growing importance of call insight data in the financial service industry in Finance Derivative.
GreyOrange
GreyOrange appoints Klaud Kleinfeld as new board member
GreyOrange were excited to announce the appointment of Dr. Klaus Kleinfeld on its board of directors. Dr Kleinfeld is founder of K2Elevation, a company that invests in and develops enterprises in the technology and biotech segment. With over 20 years of global experience in leading transformation in innovation, high-tech and high-growth companies, he will be able to help guide the next phase of growth for GreyOrange.
Versarien
Cementene: a sustainable innovation for the construction industry (print)
Versairen's CEO Neill Ricketts spoke with Concrete Engineering International for a double page spread about the use of graphene in the construction industry with Cementene. Explaining the process and benefits behind adding graphene to cement, Cementene is a more sustainable alternative as well as helping save money and time for construction workers.
Ivanti
Ivanti Named Leader in 2022 Gartner Magic Quadrant for Unified Endpoint Management Tools
Ivanti announced it was positioned as a Leader in the 2022 Gartner Magic Quadrant for Unified Endpoint Management Tools. The position validates Ivanti's product strategy and vision to help provide the best customer service. The evaluation was based on specific criteria that analysed Ivanti's overall completeness of vision and ability to execute.
SoftwareONE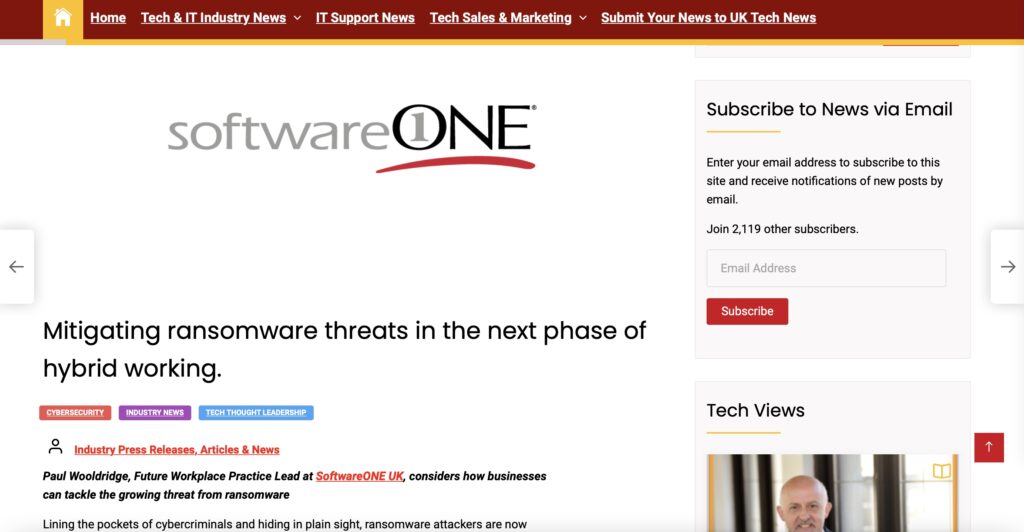 Mitigating ransomware threats in the next phase of hybrid working
Ransomware earners are among some of the highest earners of the dark economy, with the overall market expected to generate over $265bn USD in revenue within the next decade. Hybrid working can throw up business challenges regarding cybersecurity measures and mitigation. Future Workplace Practice Lead Paul Wooldridge discussed what methods businesses could implement to combat ransomware attacks.
Clear Junction
The Lloyds Scale Up Business of the Year Award
Clear Junction has been nominated for The Lloyds Scale Up Business of the Year Award. The Award recognises a previously SME or start-up that has taken the next step through its spectacular growth. The core criteria focused on employee and customer engagement, leadership and innovation, and financial performance and growth.
For more information detailing how Champion can assist you in securing earned media coverage, please email: letstalk@championcomms.com
Our latest case study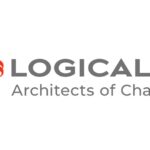 Logicalis
Logicalis had a trust problem. It was spending excessive amounts of time and money on lead and demand generation activity that was resonating with IT and Line of Business (LOB) decision-makers.
All case studies
An Award Winning B2B PR Consultancy
B2B Content Campaign of the Year – Champion Communications & MobileIron: Trouble at the Top
Best Use of Data in a Content Campaign – Champion Communications & MobileIron: Trouble at the Top
Shortlisted – B2B Campaign
of the Year (Aptum)
Best B2B Trade Campaign – Aptum
Best B2B Trade Campaign – Ivanti
Best Use of Data – Ivanti
Winner – Best Use of Data (Ivanti)
Winner – Best one-off Content Campaign (Ivanti)
Winner – Best Use of Data (Greenlight Commerce)
Winner – Best Content Campaign to Assist with Corporate Positioning (Greenlight Commerce)
Shortlisted – Best one-off Content Campaign (Aptum)
Champion Communications
is a member of the PRCA
Shortlisted – B2B Technology Campaign: It's not always sunny in the cloud – The Aptum Cloud Impact Study
Shortlisted – B2B Technology Campaign: The Public Sector Problem
Shortlisted – Best corporate decision-maker targeted campaign: Trouble at the Top, MobileIron
Winner: gold – best pr campaign, go instore
Winner: bronze – best corporate decision maker targeted campaign, Ivanti