Why are datacentre outages reducing but becoming more expensive? How do you create a compelling candidate experience? And how can IT leaders address 'quiet quitting'? 
As we wrap up for the year, our clients are looking ahead and have continued to keep important discussions going. From deploying robots in warehouses to looking back over the last year and predicting the trends of 2023, November was full of analysis and innovation. Here are the highlights from this last month: 
Logicalis UK&I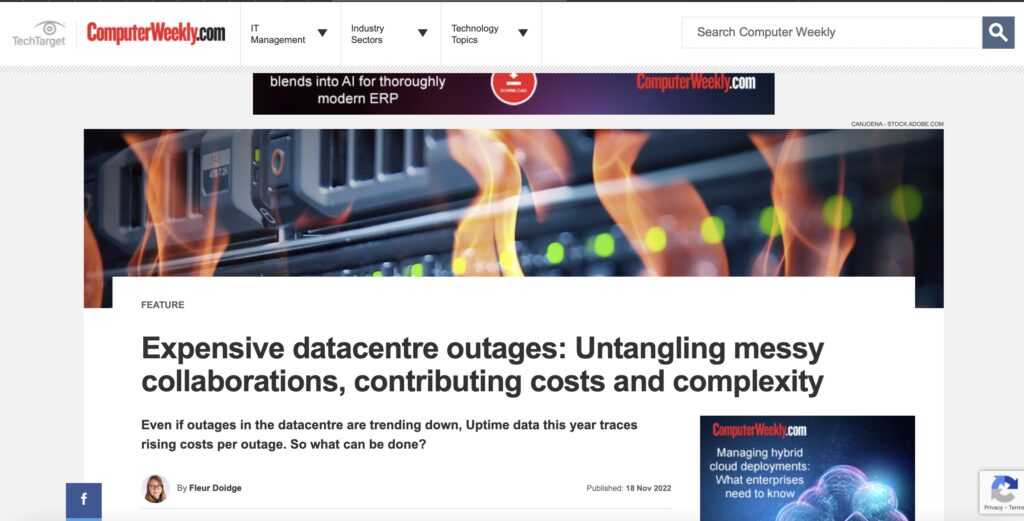 Expensive datacentre outages: Untangling messy collaborations, contributing costs and complexity
Datacentre downtime has a huge impact on productivity and whilst the number of outages has gone down, the cost per outage is rising. Neil Thurston, Chief Technologist at Logicalis UK&I, was interviewed by Computer Weekly about why outages are becoming more expensive. 
Alludo
The unexpected lesson leaders need for 2023
What do Japanese poetry and executive leadership have in common? The constraints of a haiku force the writer to think about their focus whilst being disciplined and causing impact – the same goes for business. In Just Entrepreneurs, Christa Quarles, CEO at Alludo discusses how business leaders need to 'manage by haiku' in 2023. 
Logicalis 
How can IT leaders address 'quiet quitting'? 
Since TikTok popularised the term 'quiet quitting' in the summer, the topic has dominated editorial agendas. Other than employees being disengaged, it can cause friction between team members with more committed staff having to take on greater workloads. Justin Kearney, Group Vice President of Human Resources at Logicalis, discusses the implications of quiet quitting in Computer Weekly. 
Aptum
At the beginning of the pandemic, organisations rushed to the cloud to enable employees to work from home. Businesses are now seeing the effects of little planned and accelerated digital transformations. Richard Hotchkin, Director of Cloud Infrastructure Product Management at Aptum discusses the post-pandemic cloud in Silicon UK. 
SmartRecruiters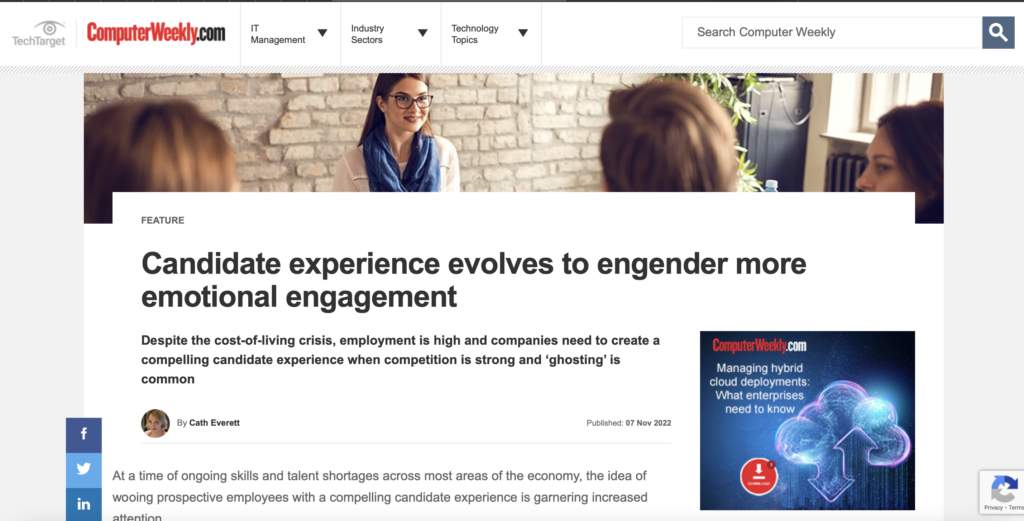 Candidate experience evolves to engender more emotional engagement 
As the skills and talent shortages continue, the idea of creating a compelling candidate experience is becoming more attractive. Each engagement with a candidate is an opportunity to showcase your brand's company culture and tell them why they should work for you. In Computer Weekly, Richard Hutchinson, Head of Resourcing at CityFibre, discusses how CityFibre sleekened their candidate experience using SmartRecruiters. 
Ivanti Wavelink
Supply round-up: Overhaul partners with MS; food waste plea
Ivanti Wavelink announced new technology to secure and manage devices across a supply chain operation. Ivanti Neurons ensures devices work correctly and are updated, allowing staff to stay productive all shift long. The announcement was included in Supply Chain Digital's weekly 'supply round-up'.  
SoftwareONE
SoftwareONE marks a year since HeleCloud move  
Just over a year ago, SoftwareONE acquired HeleCloud, placing the organisation in a stronger position in terms of showcasing value to customers and boosting its AWS expertise. Alex Galbraith, Global Director, AWS at SoftwareONE discusses the success of the acquisition one year on in an interview with MicroScope.  
GreyOrange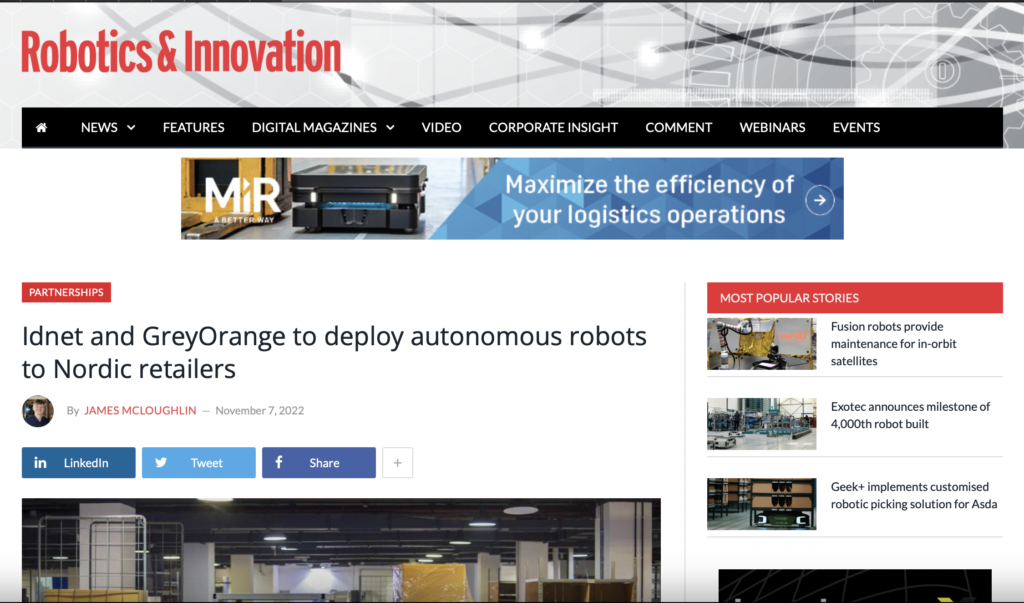 Idnet and GreyOrange to deploy autonomous robots to Nordic retailers 
GreyOrange continues its focus on partnerships in Q4 as it announces a strategic partnership with Swedish supply chain technology company Idnet. GreyOrange will be supplying Idnet with the latest robotic solutions to fill their warehouses. The head of Idnet, Per Redenius, explains that this is in order to maintain a competitive advantage in the market. 
Infinity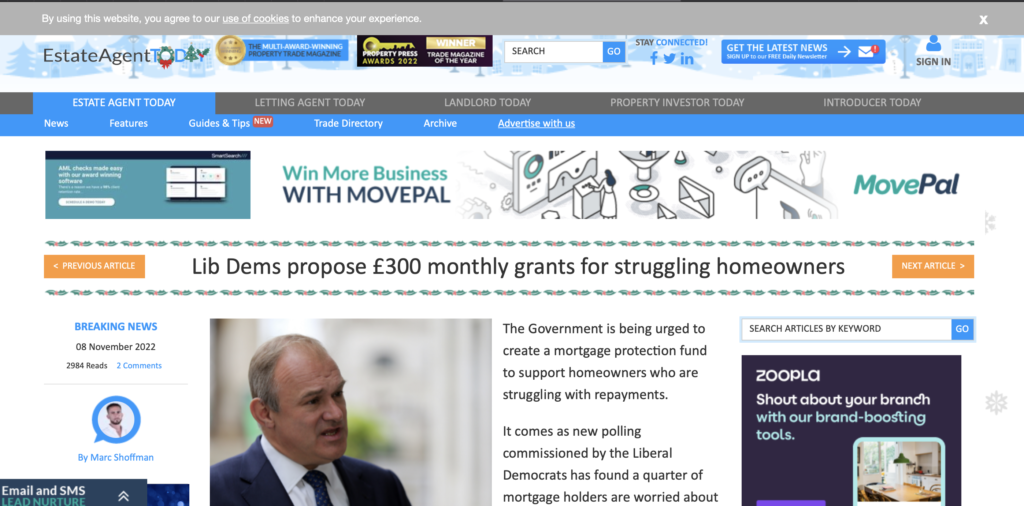 Lib Dems propose £300 monthly grants for struggling homeowners 
The UK's financial crisis sent mortgage rates skyrocketing - and the number of customer calls to financial services institutions has too. Infinity's data shows there was a 20% increase in calls from anxious customers looking for vital information about their finances. Warren Newbert, CEO, explains in EstateAgentToday the importance of those FSIs providing an outstanding customer experience. 
Clear Junction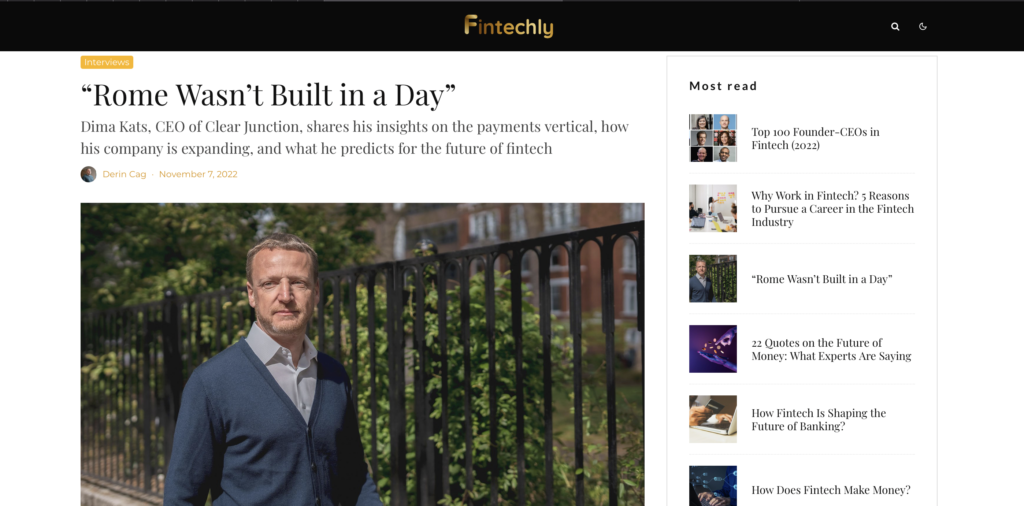 Dima Kats shares his insights into the rapid growth of Clear Junction in a rapidly growing fintech publication, Fintechly. This is a deep dive into Dima's career, the company he founded and his predictions for the future state of the fintech industry.  
For more information detailing how Champion can assist you in securing earned media coverage, please email: letstalk@championcomms.com
Our latest case study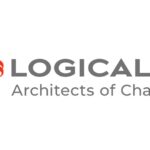 Logicalis
Logicalis had a trust problem. It was spending excessive amounts of time and money on lead and demand generation activity that was resonating with IT and Line of Business (LOB) decision-makers.
All case studies
An Award Winning B2B PR Consultancy
B2B Content Campaign of the Year – Champion Communications & MobileIron: Trouble at the Top
Best Use of Data in a Content Campaign – Champion Communications & MobileIron: Trouble at the Top
Shortlisted – B2B Campaign
of the Year (Aptum)
Best B2B Trade Campaign – Aptum
Best B2B Trade Campaign – Ivanti
Best Use of Data – Ivanti
Winner – Best Use of Data (Ivanti)
Winner – Best one-off Content Campaign (Ivanti)
Winner – Best Use of Data (Greenlight Commerce)
Winner – Best Content Campaign to Assist with Corporate Positioning (Greenlight Commerce)
Shortlisted – Best one-off Content Campaign (Aptum)
Champion Communications
is a member of the PRCA
Shortlisted – B2B Technology Campaign: It's not always sunny in the cloud – The Aptum Cloud Impact Study
Shortlisted – B2B Technology Campaign: The Public Sector Problem
Shortlisted – Best corporate decision-maker targeted campaign: Trouble at the Top, MobileIron
Winner: gold – best pr campaign, go instore
Winner: bronze – best corporate decision maker targeted campaign, Ivanti