July has been another busy month for the Champion team. We revealed our new website, launched several new PR campaigns, and achieved coverage for clients that aligns well with their individual growth strategies.  
Aptum 
"We're a true hybrid solutions provider," says Aptum CEO Susan Bowen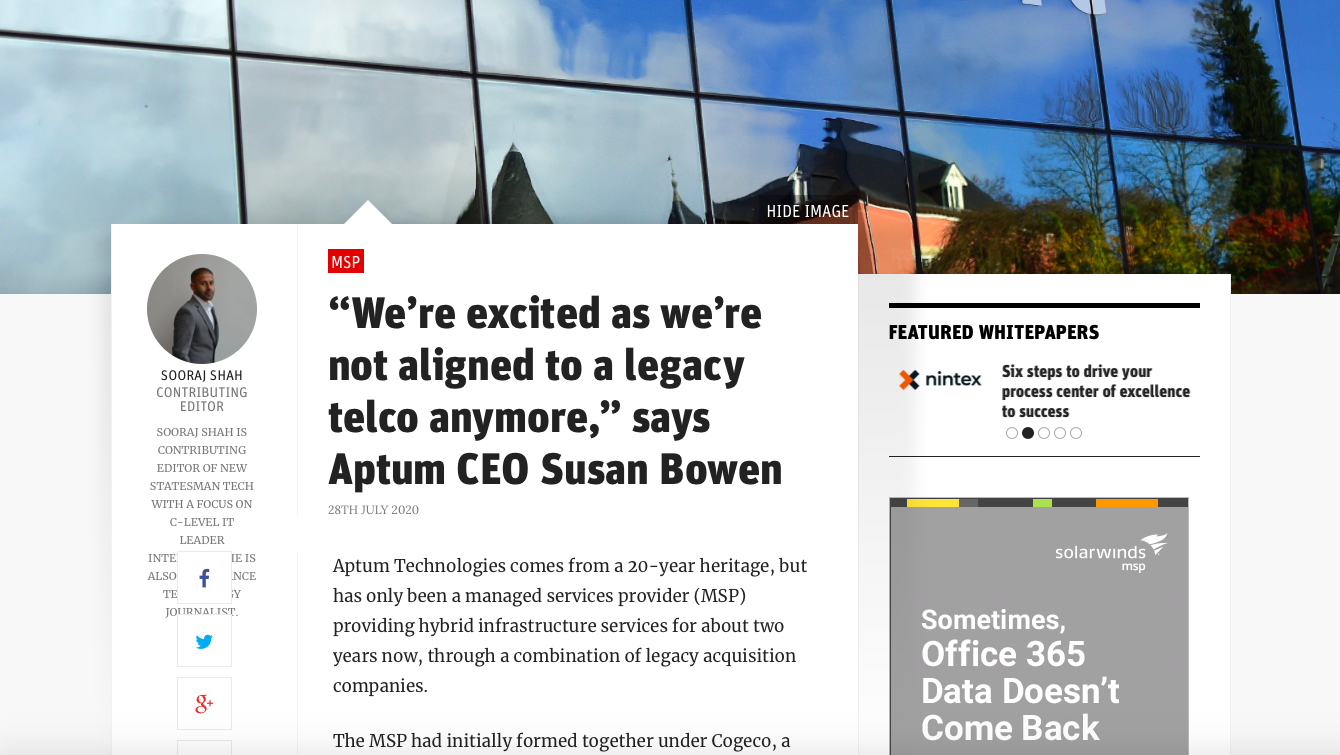 This month, Aptum's CEO, Susan Bowen, spoke to New Statesman Tech for an article that examined Aptum's past, present and future. A summary of the brand journey emphasised how Aptum has adapted its services to focus on hybrid cloud solutions. With the pandemic placing new strains on businesses' IT resources, Susan highlighted to a large tier-one audience how Aptum is positioned to assist them.  
Aptum tracks shifting responses to cloud  
Aptum also released the first set of results of its Cloud Impact Study, which revealed the extent to which organisations rely on cloud for business continuity. Susan Bowen, Aptum's CEO, caught up with Simon Quicke from Microscope, to discuss the report's findings. To quote Susan, 'the aim of the study is to inform industry leaders looking for data points to support decision making.'  
The study found that 38% of companies have used cloud technology to scale their infrastructure to meet new demands and that 76% have utilised to cloud services to facilitate remote working. The impact cloud has had on business continuity during the pandemic is clear and is an indicator of its increasing importance to business resilience.  
Aptum's CIO, Alberto Da Anunciacao, made his UK press debut in a five-page feature spread on Data as Infrastructure in Digital Bulletin. The interview examined why companies need to consider their data to be as significant as their infrastructural assets. Drawing upon his own insight and the results of the Cloud Impact Study, Alberto explains the necessity of incorporating protection, governance and recovery into a data strategy.  
In addition to being featured in both Microscope and Digital Bulletin, Aputm's Cloud Impact Study has so far also been covered in five other tier-one publications, including Information Age, Digitalisation World and Data Centre Review.  
Go Instore 
Is Rishi Sunak's job retention bonus scheme the right strategy for supporting the retail sector? 
As a result of the Government's most recent strategy to help struggling industries, Andre Hordagoda, CEO and Co-Founder of Go Instore, featured in a CityAM debate where he discussed why the job retention bonus scheme will kill the retail sector. He argues that the government needs to shift its focus to helping businesses adapt to the new retail landscape.  
Returning to retail – virtually 
This month, Aman Khurana, Co-Founder of Go Instore, was a guest on Guy Clapperton's Near Futurist Podcast and explored the future of the retail industry and why technology will be key in supporting brands. Aman shares why it's going to take society a long time to return to some form of normality, despite the easing of lockdown measures. 
Logicalis 
The shape of IT in a post-COVID-19 world 
Bob Bailkoski, Logicalis' CEO, featured in a piece in Silicon UK on the future of the IT world. Bob discusses why the pandemic will lead global leaders to reconsider their digital transformation roadmaps in a matter of weeks and months rather than years. He also shares why the need for agility in IT projects is crucial as businesses adapt to future spikes in the number of workforces working remotely.  
Claremont 
Sheltering Financial Applications in the Cloud 
CEO of Claremont, Mark Vivian, took a closer look at the application hosting options available to the Financial Services in a thought leadership article for Finance Monthly. The article reinforces the value of bringing in a Managed Service Provider to remove the hassle of cloud infrastructure hosting and positions Claremont well as an attentive customer-centric organisation.  
MobileIron 
How lockdown changed enterprise mobility 
In a thought leadership article for IT Pro Portal, David Critchley, MobileIron's Director for UK & I, explored the issues organisations faced when they quickly onboarded their employees' devices, and the main lessons they should take away from that experience. 
COVID-19, 5G and the Zoom Economy 
MobileIron's chief 5G evangelist, and Technical Director, Russ Mohr, shared his insights with Mobile World on the changing cybersecurity landscape. As we've evolved to consider COVID-19 in our everyday activities, so have cyber criminals. They're looking to exploit our fears and piggyback off 5G and adjacent technologies. Russ shares his assessment of the geopolitical landscape that surrounds these issues and his advice for enterprises in BizClik's latest B2B tech platform.  
With another good month of coverage, dozens of zoom calls, even more Microsoft Teams calls and a virtual cocktail making class under our belts, we are now getting stuck into August. We are also recruiting and have begun looking for two apprentices to join us and a new account manager to replace one who is leaving us to go and look after elephants in Thailand. (We know elephants are cute, but we hope she'll be back!) If you know of anyone who might be interested in joining our team, we invite any interested candidates to email us at letstalk@championcomms.com, All applicants are invited to write their own ideal job description. Let's see what we can do together!
Our latest case study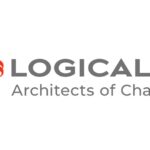 Logicalis
Logicalis had a trust problem. It was spending excessive amounts of time and money on lead and demand generation activity that was resonating with IT and Line of Business (LOB) decision-makers.
All case studies
An Award Winning B2B PR Consultancy
B2B Content Campaign of the Year – Champion Communications & MobileIron: Trouble at the Top
Best Use of Data in a Content Campaign – Champion Communications & MobileIron: Trouble at the Top
Shortlisted – B2B Campaign
of the Year (Aptum)
Best B2B Trade Campaign – Aptum
Best B2B Trade Campaign – Ivanti
Best Use of Data – Ivanti
Winner – Best Use of Data (Ivanti)
Winner – Best one-off Content Campaign (Ivanti)
Winner – Best Use of Data (Greenlight Commerce)
Winner – Best Content Campaign to Assist with Corporate Positioning (Greenlight Commerce)
Shortlisted – Best one-off Content Campaign (Aptum)
Champion Communications
is a member of the PRCA
Shortlisted – B2B Technology Campaign: It's not always sunny in the cloud – The Aptum Cloud Impact Study
Shortlisted – B2B Technology Campaign: The Public Sector Problem
Shortlisted – Best corporate decision-maker targeted campaign: Trouble at the Top, MobileIron
Winner: gold – best pr campaign, go instore
Winner: bronze – best corporate decision maker targeted campaign, Ivanti