Topping the news agenda this month was the future of the office. With the final stage of re-opening in the UK delayed, businesses consider what a return to the office will look like, if they return at all, and what it means for workforces. This doesn't just involve the current workforce but building the pipeline of future talent as well.  
With the future of work likely to be hybrid, June was a month full of much discussion over aligning and optimising IT management, cybersecurity, and digital transformation across various industries. Our clients shared their insights on these topics alongside the role of the CIO post-pandemic, how brands can prepare for the future of retail, obstacles that can arise in cloud migration, and the fast-changing industry of 5G. Read all about it and more in June's Coverage Highlights: 
Interview with Mark Vivian, CEO at Oracle Managed Service: Claremont 
Claremont CEO, Mark Vivian, spoke with TechRound UK about Claremont's business evolution during the pandemic and the importance of service excellence to the organisation's success. "With a highly skilled and motivated workforce, we've been able to consistently deliver excellent services to our customers year on year." 
Video commerce and livestreaming make waves in retail 
Live video is the new frontier for retailers. André Hordagoda, co-CEO, and co-founder of Go Instore, and Matt Lawson, Chief Digital Officer at Ribble Cycles, spoke to Computer Weekly about the future for retail and how omnichannel will remain a part of this. "The website has millions of customers, but they didn't have access to the whole brand experience until we introduced Go Instore." explained Lawson.  
How connected tech can help throughout the customer journey - Ranconteur 
The pandemic has made it difficult for retailers to provide the personalised experience that in-store customer service can offer. However, live video solutions can break these barriers. Clive Hudson, senior programme manager at Marks and Spencer, shared his experience using Go Instore, saying, "Video-powered retail allows us to bring the expertise of our colleagues in stores straight to customers at home, offering convenience and flexibility alongside the service they expect from M&S." 
What is the role of the CIO (chief information officer) in a post-pandemic digital business environment? Akash Gupta, co-founder, and CTO (Chief Technology Officer) at GreyOrange, explained the benefits that CIOs can bring to businesses, such as advising the rest of the C-suite on potential new technologies and measuring the long-term impacts of strategic investments.  
Logicalis CEO On Microsoft Azure Surpassing His 'Wildest Expectations' For Growth 
In an interview with CRN, Logicalis Group CEO Bob Bailkoski discussed the organisation's partnership with Microsoft and the benefits that implementing the Azure cloud platform has brought to its clients. "The demand for Azure has been huge. We've grown our consumption revenue for Microsoft by over 80 percent," he explained. 
Your COVID Pivot: How Businesses Have Changed to Survive the Pandemic 
The pandemic has changed how businesses use their technologies and has highlighted the need for a holistic reshaping of IT infrastructure. "As roadmaps shift and the hybrid work future approaches, companies looking at future proofing their work infrastructure benefit hugely from experienced transformation partners to avoid the pitfalls of what can be a perilous but ultimately very profitable journey," says Logicalis UK Managing Director, Alex Louth. 
What wildebeest can teach us about cloud migration 
Although migrating to the public cloud can bring pastures rich in memory beds and storage silos, it is a perilous journey for those who are not careful. Speaking to IDG Connect, Mark Newman, chief analyst at TM Forum, highlights the obstacles that can arise for organisations seeking to make this transition and how to overcome them.  
Employers are missing a trick by overlooking internal talent 
SmartRecruiters' launched its State of Internal Recruitment Report revealing how employers are overlooking internal talent. In an article for UNLEASH CEO of SmartRecruiters, Jerome Ternyck states, "If you can't provide your best people with meaningful career opportunities, then your competitors will."  
Working from home is worth preserving 
An Ivanti survey revealed that working from home is here to stay, with only 16% of respondents claiming they wished to return to the office full-time. Chris Goettl, senior director of product management at Ivanti said, "As we enter the next phase of work, in which there will be both remote and hybrid employees, it will be imperative that organisations implement a zero-trust security strategy to better protect their digital assets and ensure that employees can access the data they need to stay productive, regardless of where they are working from." 
Ivanti Wavelink- 
Digital Factory: 4 Considerations For Voice Solutions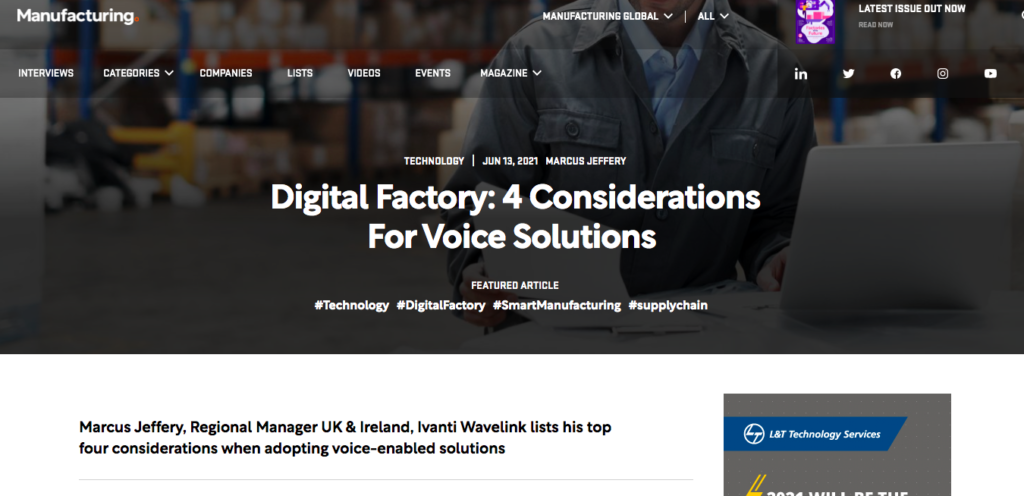 Although voice-enabled solutions are a valuable tool for workers, boosting productivity and accuracy in warehouses, adoption is low. Regional Manager UK & Ireland at Ivanti Wavelink, Marcus Jeffery, spoke with Manufacturing Global about the top considerations' businesses need to make when adopting voice-enabled solutions.  
Sportswear focus for Versarien 
Sports textiles specialist at Versarien, Bobbie Lawrenson spoke to Innovation in Textiles about how Versarien plans to bring the benefits of graphene to the sportswear industry, and its partnerships in the manufacturing industry. "Versarien has truly done the legwork on the science of graphene across a wide number of fields, and we have established technologies that are now ripe for commercialisation," says Lawrenson. 
The Payments Revolution Starts with 5G 
5G can offer higher reliability and increased connectivity for businesses, compared to 4G networks. In an interview with The Fintech Times, Dima Kats, CEO of Clear Junction, shares how financial services need to look to mobile banking and develop their strategies around 5G to stand out among competitors.  
For more information on how we can assist you in securing earned media coverage or drive success and sales for your business, get in touch at: letstalk@championcomms.com    
Our latest case study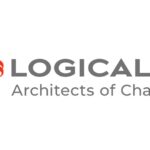 Logicalis
Logicalis had a trust problem. It was spending excessive amounts of time and money on lead and demand generation activity that was resonating with IT and Line of Business (LOB) decision-makers.
All case studies
An Award Winning B2B PR Consultancy
B2B Content Campaign of the Year – Champion Communications & MobileIron: Trouble at the Top
Best Use of Data in a Content Campaign – Champion Communications & MobileIron: Trouble at the Top
Shortlisted – B2B Campaign
of the Year (Aptum)
Best B2B Trade Campaign – Aptum
Best B2B Trade Campaign – Ivanti
Best Use of Data – Ivanti
Winner – Best Use of Data (Ivanti)
Winner – Best one-off Content Campaign (Ivanti)
Winner – Best Use of Data (Greenlight Commerce)
Winner – Best Content Campaign to Assist with Corporate Positioning (Greenlight Commerce)
Shortlisted – Best one-off Content Campaign (Aptum)
Champion Communications
is a member of the PRCA
Shortlisted – B2B Technology Campaign: It's not always sunny in the cloud – The Aptum Cloud Impact Study
Shortlisted – B2B Technology Campaign: The Public Sector Problem
Shortlisted – Best corporate decision-maker targeted campaign: Trouble at the Top, MobileIron
Winner: gold – best pr campaign, go instore
Winner: bronze – best corporate decision maker targeted campaign, Ivanti